Ahh, the joys of a big road trip, something you all should do and regularly because of all the 4X4 countries in the world, Australia is best for it! I say that in the knowledge that there are largely no barriers, no pesky dictators starting wars and upsetting reasonable rights to travel, no menacing border guards with big guns and on the take and waiting for poor hapless travellers to scam, no animals with an appetite to eat you (well unless like me you surf) and weather that's mostly very pleasant and conducive to attire unsuited to the office-space – meaning shorts, t-shirt, sunnies and Japanese safety boots.
So for our recent big Western Australia journey, we packed Mrs Wilson's Splash White Isuzu MU-X and hitched to it one of our Adventure 4WD Kimberley camper-trailers. The MU-X is already a star of Loaded 4X4 and featured in Issue 003, and you can read what we did to it here. We're due for a new review of what we've done to the vehicle since and you'll see that in a future issue of the magazine. If you're travelling from Adelaide, you can rent one of our campers and enjoy a seriously comfy holiday by following this link because my days of tenting are over and camper trailers make a whole lot of sense.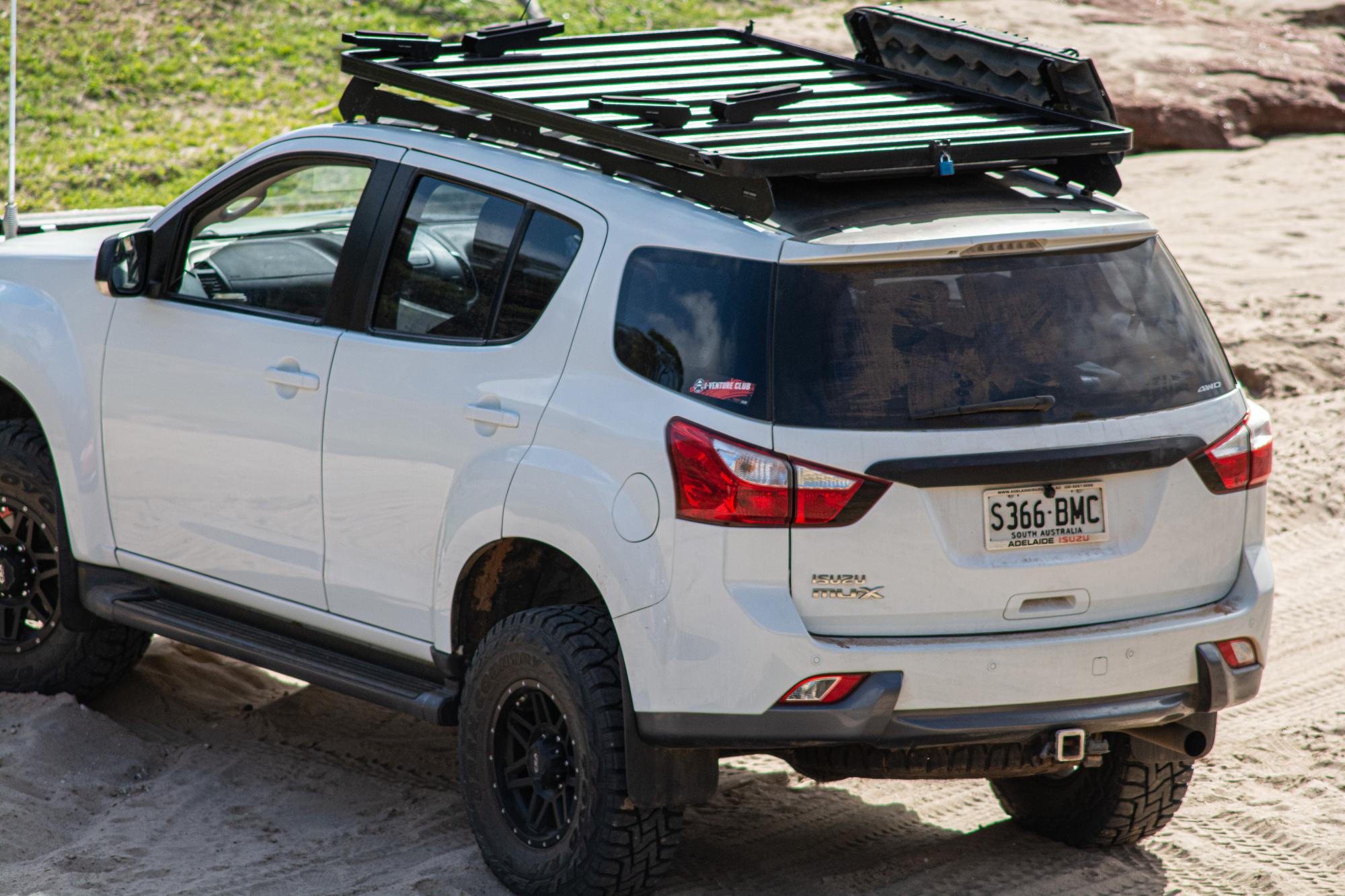 Carrying gear when you're away (in this case for five weeks) becomes a bit of a challenge because there's never enough space and as the boards were coming with us a decent roof rack structure was the go. I have to declare that I have been a devout anti-rack campaigner for all of my professional driver-trainer career (that's twenty-five years thanks) because I've seen first-hand the dumb shit that people do with them. When you see a near-empty vehicle with only two passengers, yet the roof rack has a row of fuel containers, a toolbox, spare wheel and it goes on and on sitting atop a structure only capable of holding up 70-100kgs you wonder what drugs they were taking?
The risk of rollover is very real when that mass upstairs creates a big old pendulum effect. Then coupled to the increased fuel cost thanks to the wind resistance you've now created and in an overload situation, fatigued and cracked roof pillars are something I've shied away from. On this occasion, I deemed we could do it with the modest load I was proposing, but only if the structure was solid.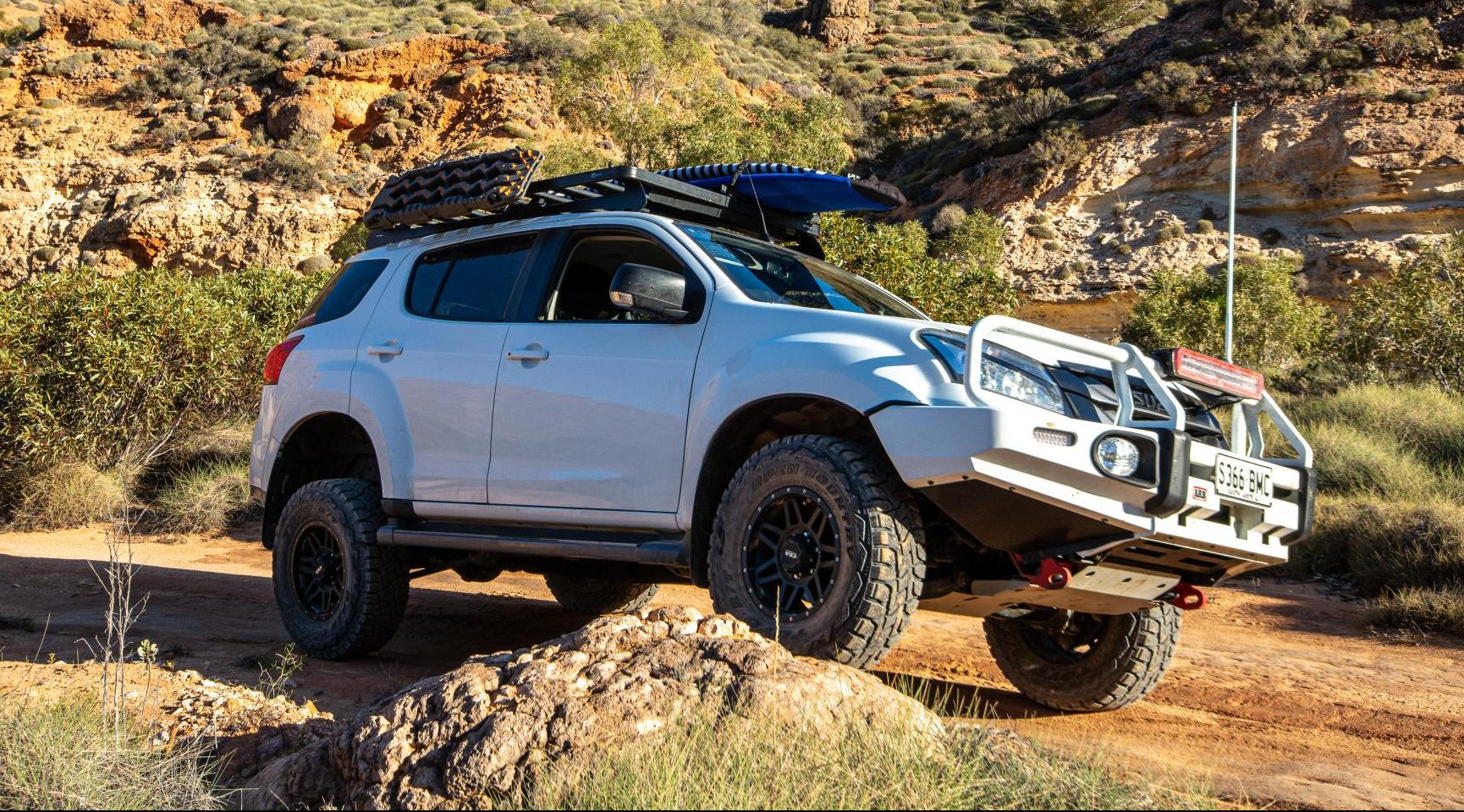 Front Runner's catalogue supplied the incentive and their Slimline series of racks supports a wide range of vehicles.
Firstly the genuine Isuzu roof rails had to come out to reveal the fixing points located under the roof's outer skin, in this case, pre-drilled to accommodate the near-useless rails, another case where fashion ruled over function. The powder-coated steel longitudinal rails are then bolted into position providing a rigid mounting point for Front Runner's flat rack platform. As I'd reported in an earlier Good Gear article on Front Runner's rack for the new Jimny the rack is super-strong thanks to its interlocking construction, light as it's aluminium and versatile because it can be configured in many ways.
So with the basic platform in place now, I could look to the accessory pages to make it functional for the trip.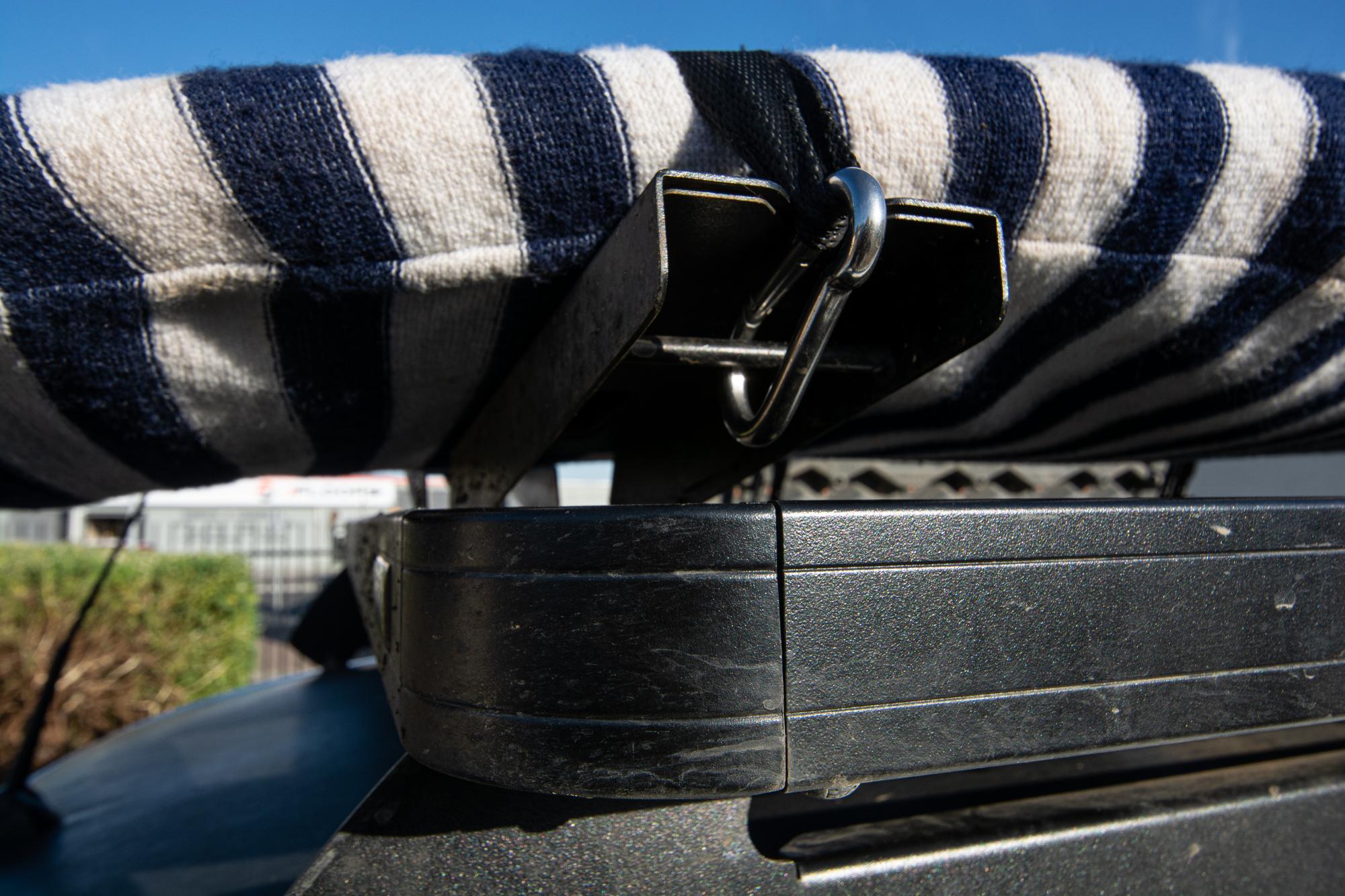 The first option was the surfboard carriers.
These padded V-shaped retainers are so-clever, able to be positioned on the rack via a locking channel to whatever width your board might be, from toothpick short-board to a modern-Mal or even a SUP, your surf-craft will find a snug resting place and protected from dings.
Securing your board is the bit I really liked because Front Runner has these straps called "Strachits". When I first read about them, I couldn't work out how they did their job, but the truth is they are ingenious. At each end (and they come in various lengths) is a stainless carabiner that's spring-loaded and attached to a stretchy rubber strap sheathed in a protective cloth wrap. The length is adjustable. Snap the carabiner onto the locating pin on the far side retainer, stretch it over the board and secure the loose end and tension until firm. After nearly 15,000 kilometres and hundreds of road trains worth of suction (the Bernoulli effect) they never once came loose or were seen flapping about.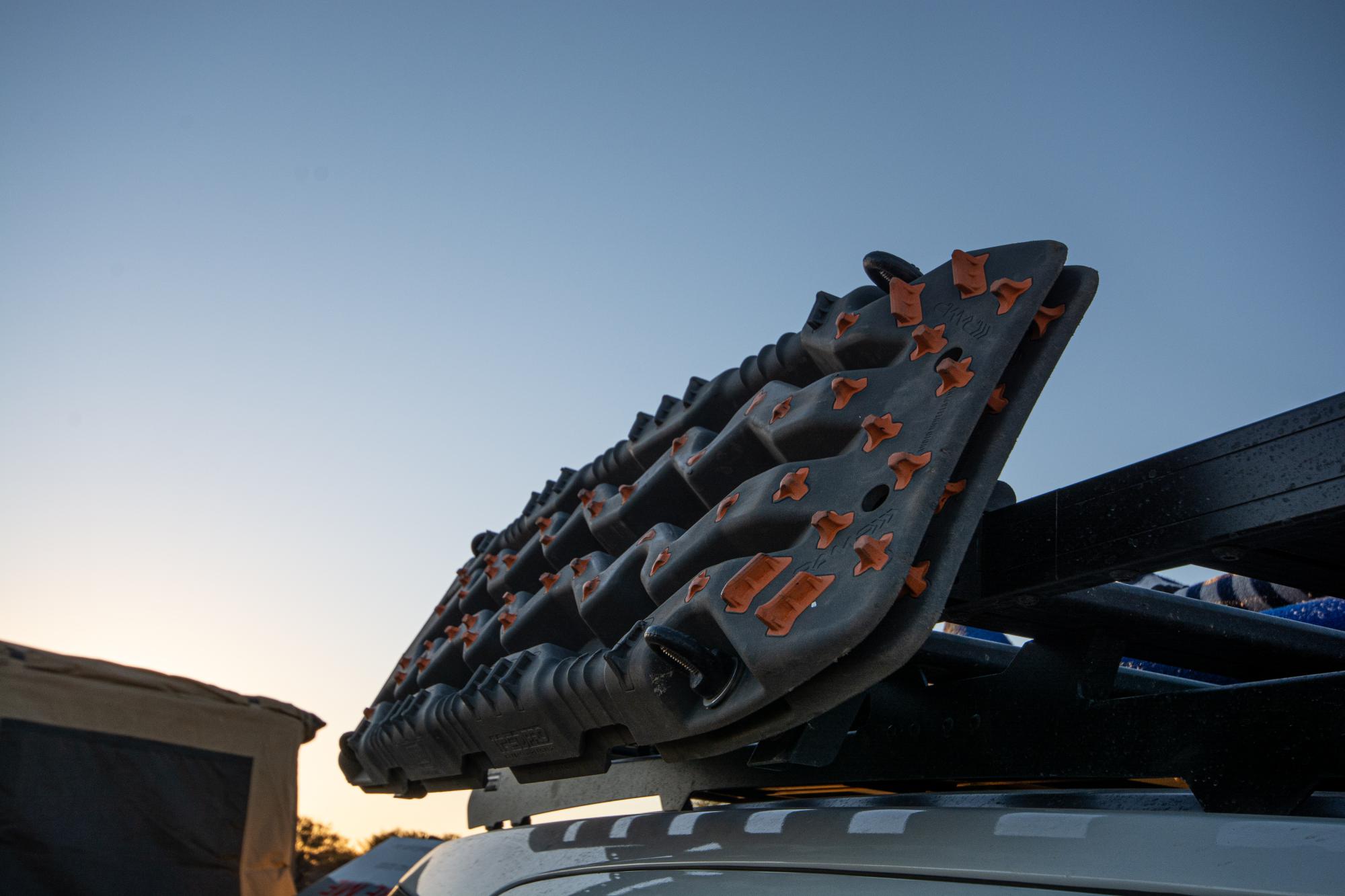 While we're considering lift and turbulence, the last thing I wanted was a rack that was going to take me back to my Classical Studies days and the Sirens in the Odyssey. Roof racks often delight in tormenting their owners by creating this resonance that'll sing its annoying song to you for the whole journey, but Front Runner's wind deflector stopped that chorus dead in its tracks.
So with the pleasure-craft secure and silent, I needed to consider the work role of the journey, and that was the 4X4 training I was doing and likely needing a pair of recovery boards just in case. No problem. The Slimline has a recovery device mount and in this case, located rearwards and on the right-hand side of the rack on an angle, making demount easy. I seemingly had all bases covered as the TREDPros were within easy reach. There's also a locking pin arrangement that'll stop thieves.
I'm saving the best for last though because you can also option in a preparation table with a slide that sits under the rack platform and is secured at the rear with a spring-loaded hasp where a padlock can be installed that'll also stop the thieves.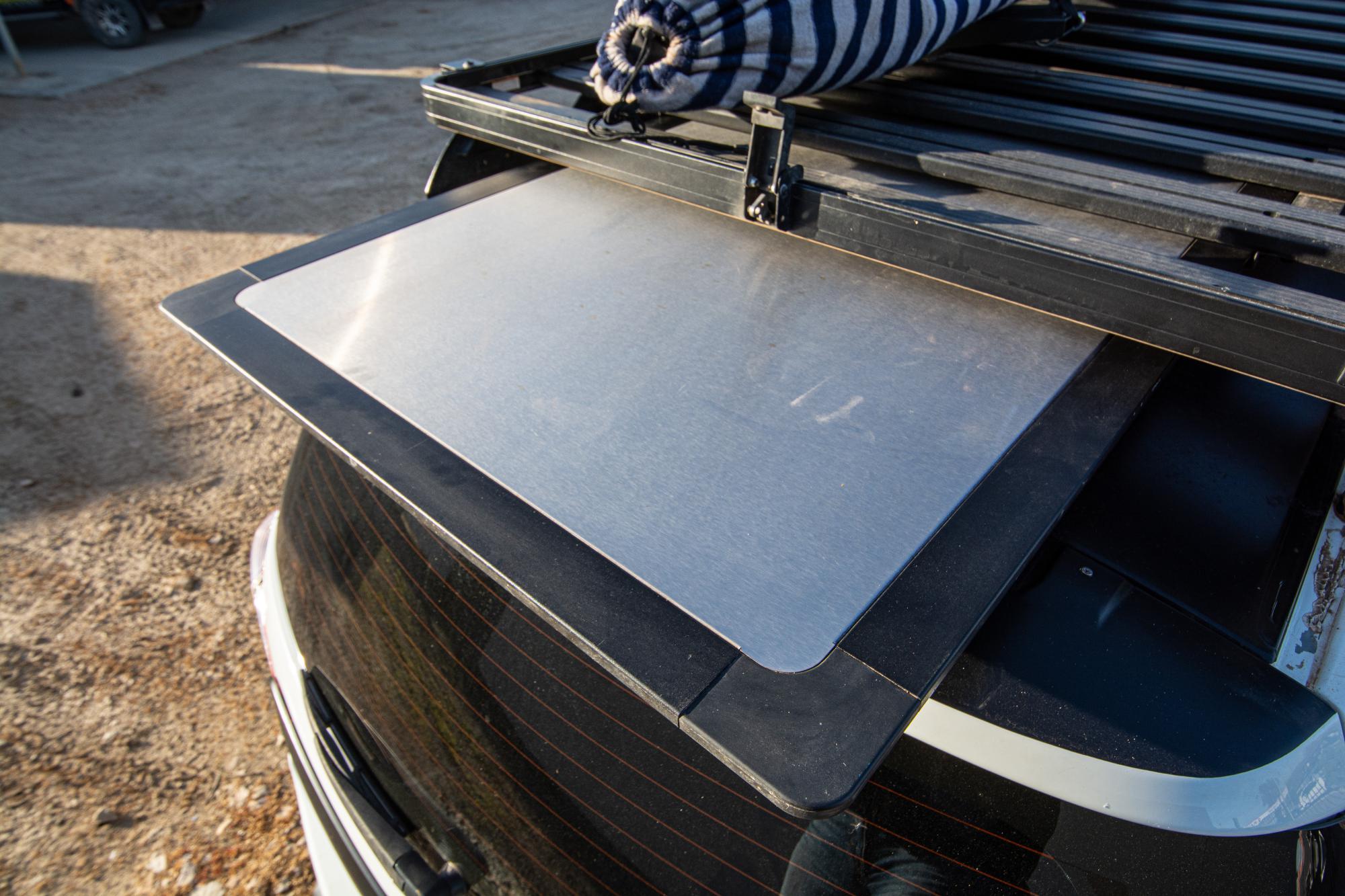 The table is an exquisite thing, a stainless-steel top surrounded by a frame of aluminium coated in AkzoNobel Interpon 600 (that's a nuclear-grade powder-coat in black) that's contoured to fit snugly in the under-rack recess. The legs fold up unobtrusively beneath the table's surface, and it slides in and out easily and ready for the next big cook-up. Access from the rear of the MU-X was a bit of a reach (thanks to the jacked-up OME suspension), but it worked well. I was expecting that it might vibrate like a jelly on a Wacker plate while we were in motion, but it was only on the odd occasion with a howling gale from the side of the car did it make any racket. I've got an idea to install a couple of pads of Velcro to fix that issue and make the landing-place a bit snugger.
If you like a frothy come day's end then the last accessory I selected from the Front Runner catalogue (and the cheapest one I got) will appeal. Remember those old Coca-Cola refrigerators and their bottle cap openers? Well our MU-X has the Front Runner equivalent, and it got a hammering every day around 1600 hours. A simple little box with a couple of half-moon cut-outs will remove your favourite brew's cap faster than a gazelle leaping from a lion's grasp! Nothing more satisfying after an 800-kilometre day than doing an amber chug-a-lug! Thanks, Front Runner!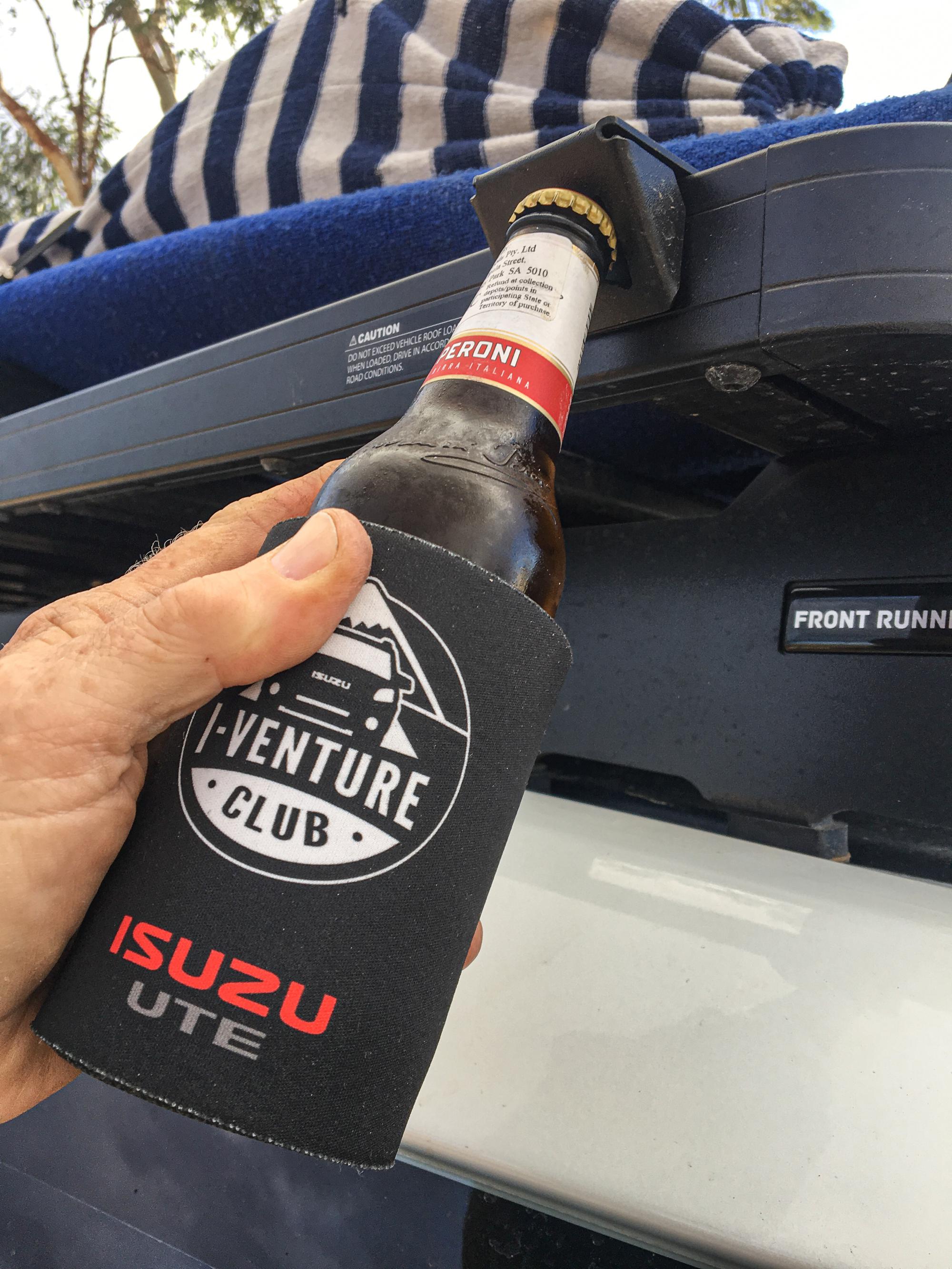 If you want great Mate's Rates pricing on Front Runner gear, hit this link >>> Front [email protected]