So you've got a 4WD, and you reckon it's time for that first big trip? Great and we wish you well on that journey because your first crossing of the Simpson Desert, your first visit to Central Australia, your first trip to the Cape will likely be something that is life-changing and you'll remember fondly to the grave.
BUT how are you going to get there when the average fuel tank size on your typical 4WD in this country is around 70 litres?
When you do the maths, a 70-litre tank might stretch with the best diesel fuel efficiency to around 650 kilometres, and that might not be enough. If there's some 4WDing to be done that'll eat into that range, so too variable track conditions – sand that's had some rainfall on it will be easy-as-pie, sand that's been baked for months and is powder-dry will be hard going and you'll be hoovering up the diesel and have nothing much to show for it.
One of my favourite 4WD wagons is Mitsubishi's Pajero, a wagon that's been around forever and boasts amazing capability along with a reasonably frugal engine and a bigger than usual 88-litre fuel tank. That capacity is good, but ARB has made it better with their new Frontier long-range version for the Pajero, a direct replacement for the stock tank that mounts up under the monocoque chassis very neatly and holds an impressive 128 litres, 40 more than standard. That's potentially another 300 or more kilometres out of a single fill.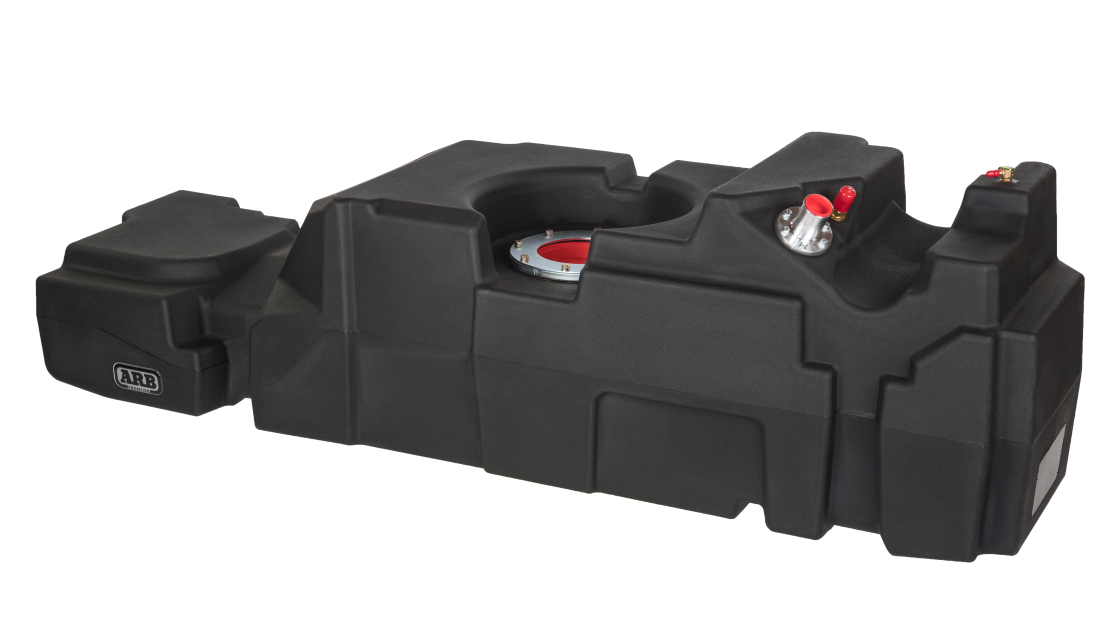 Now the space under the car that the Frontier uses is exactly that used by the original tank, but better uses the nooks and crannies and is still placed in the best spot, under the car and amidships and doesn't impact on critical ramp-over or departure angles.
The other good thing about Frontier is its plastic! Now you might think that's a negative, but I can tell you it's a very big positive.
I've run both steel versions and the plastic Frontier tanks in my personal 4WD fleet over the years, and I can tell you plastic wins hands-down every time. It's lighter and stronger.
I've had a couple of steel tanks crack along seams and leak, and one's supporting bracket failed on a weld. None of these situations stopped us from continuing with our journey at the time, but it was telling how brutal corrugated tracks can be on steel.
My Isuzu MU-X has a Frontier that carries 112 litres instead of the paltry 65 litres standard and that capacity allows me to make my favourite jaunt from Adelaide to Coffin Bay on South Australia's West Coast without stopping and still have enough left to run around locally for a few days after, try 1,100 kilometres worth of driving.
I'm a believer and you should be too. Frontier tanks from ARB are made to suit a wide variety of popular 4WDs, check to see if your 4WD is listed here – https://www.arb.com.au/fuel-tanks-storage/frontier-long-range-fuel-tank/