We love the new 2019Jeep Wrangler because it ticks our boxes for what constitutes a proper 4X4. But before I go all gooey about the JL, I need to tell you that it's been compromised by the fun Police and the Safety Nazis. They wouldn't be doing their job if there weren't some killjoy intervention because their idea of what a vehicle should be and ours are poles apart because you see we hanker for the bush while they errr wanker for the city.
Thank God (or whoever is up there pulling the accessory levers) for ARB, because they've been beavering away on producing an accessory line for the USA range of JL Wrangler that we'll inherit shortly (with some tweaks to suit local regs – see it's those local fun bastards getting in the way again).
My main gripes with the Rubicon we tested recently largely revolve around issues of clearance.
The front bumper is something Jeep has had to install to match regulatory safety requirements, but it's a pox on mankind, a bit like leading from the chin and likely to scrape every time off the beaten track.
The same can be said of the rear bumper. I thought we had tons of room down the back but how surprised was I when on a modest touchdown the plastic cover popped off its anchors and assumed a rather jaunty off-centre look for the number plate?
The ramp-over in the middle looked good, but if you're going to put the Wrangler to the test, you'll want more without the risk of crushing the door sills on a rock that suddenly looms large in your view or out of it.
So, if you aren't intending of being a Wrangler wanker, you better get those three points fixed courtesy of ARB's front and rear bumpers and their rock slider set.
You know the angles are going to be improved by a huge margin with all three replaced, and you'll get the usual ARB benefits of full steel construction and integrated tow points. Flimsy tin-foil parts masquerading under a sheath of plastic as being tough are so far removed from reality it's hilarious, the bush is littered with the detritus of poor design. I know that balancing a vehicle on a vital component when "rambling" better come without the risk of bending or breaking, so you can be sure ARB's kit will offer a guarantee of being bush-proof.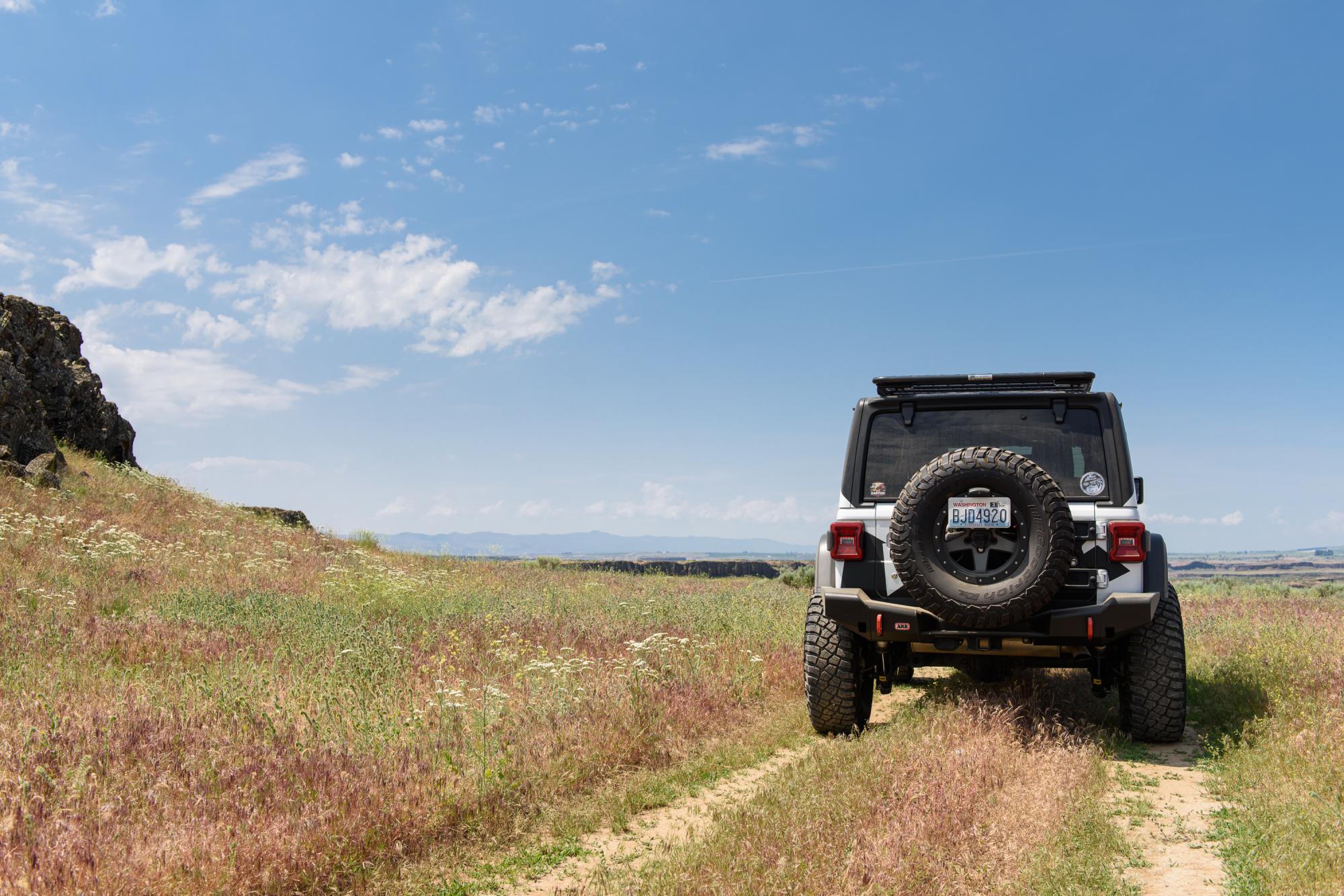 Few manufacturers have ever made suspension that's right out of the box, so ARB's collective engineering might at Old Man Emu have been hard at it in the foundry forging the steel to create a Jeep-tune BP-51 remote reservoir range of shocks and also a set of springs that'll get your JL up in the air with sensible clearance and have it go around corners like it's on rails. No soggy BS going on there, just lots of flex and still plenty in reserve for the on-roads.
Now ARB isn't going to let traction go unanswered either and while Rubicon gets the full front and rear diff-lock treatment from the factory, the Overland and Sports models rely solely on traction control, and it doesn't matter how good your traction control might be, it can never be as good as a double-diff-locked driveline. Expect front and rear ARB Air-Lockers along with single or twin motor air compressors with the double-benefit of tyre inflation duties as well.
Flat roof racks will overcome the dilemma of space because there are times when everything won't fit inside the cabin. ARB's new aluminium Wrangler rack runs full-length of the roof-space and respects the maximum load-bearing on the JL's roof structure and gets you a stable platform for extra storage. It looks plain sexy and dressed up with a brace of ARB Intensity spotties or light bars; you'll turn night into day all while you lug that load to your favourite camping destination in the dark.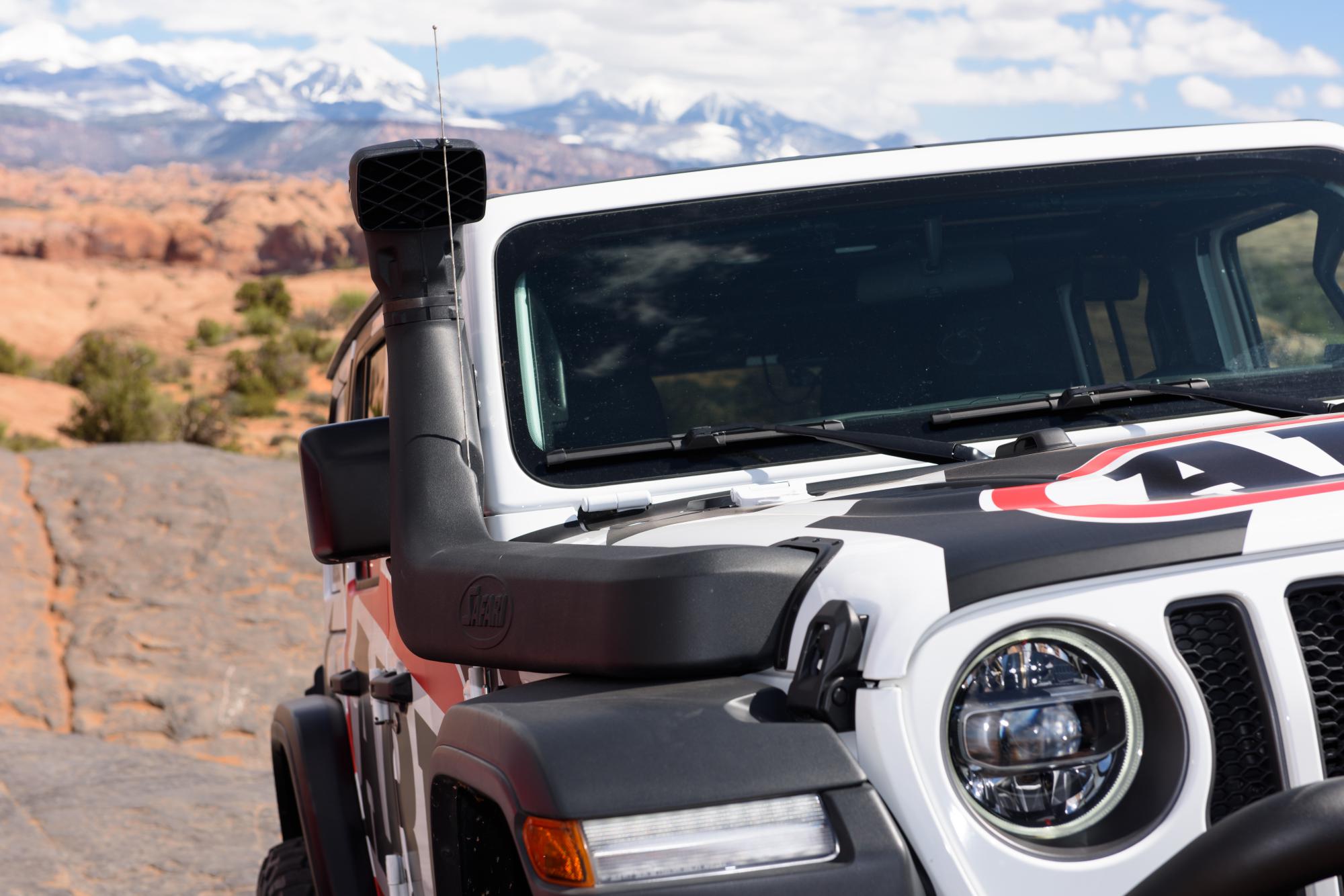 Turning all that gear on and off deserves ARB's LINX system as well. LINX is an integrated app platform that will give you total control of your accessories from a single point. Rather than a brace of switches, control your vehicle's performance from the convenience of a phone interface and right in front of you.
Stowage also comes in the form of drawers. ARB's sliding drawers will easily swallow up that load of recovery accessories, tools and other essentials you'll be taking away with you and they'll be snug as a bug and secure. Hanging on a 45° slope or bouncing along that rock-strewn trail you know your shit isn't going anywhere tucked inside those drawers.
An ARB accessory range also wouldn't be complete without a Safari snorkel option either, so just for JL Wrangler is a new snout that'll get your JL breathing nice and safe if you want to tackle a raging stream.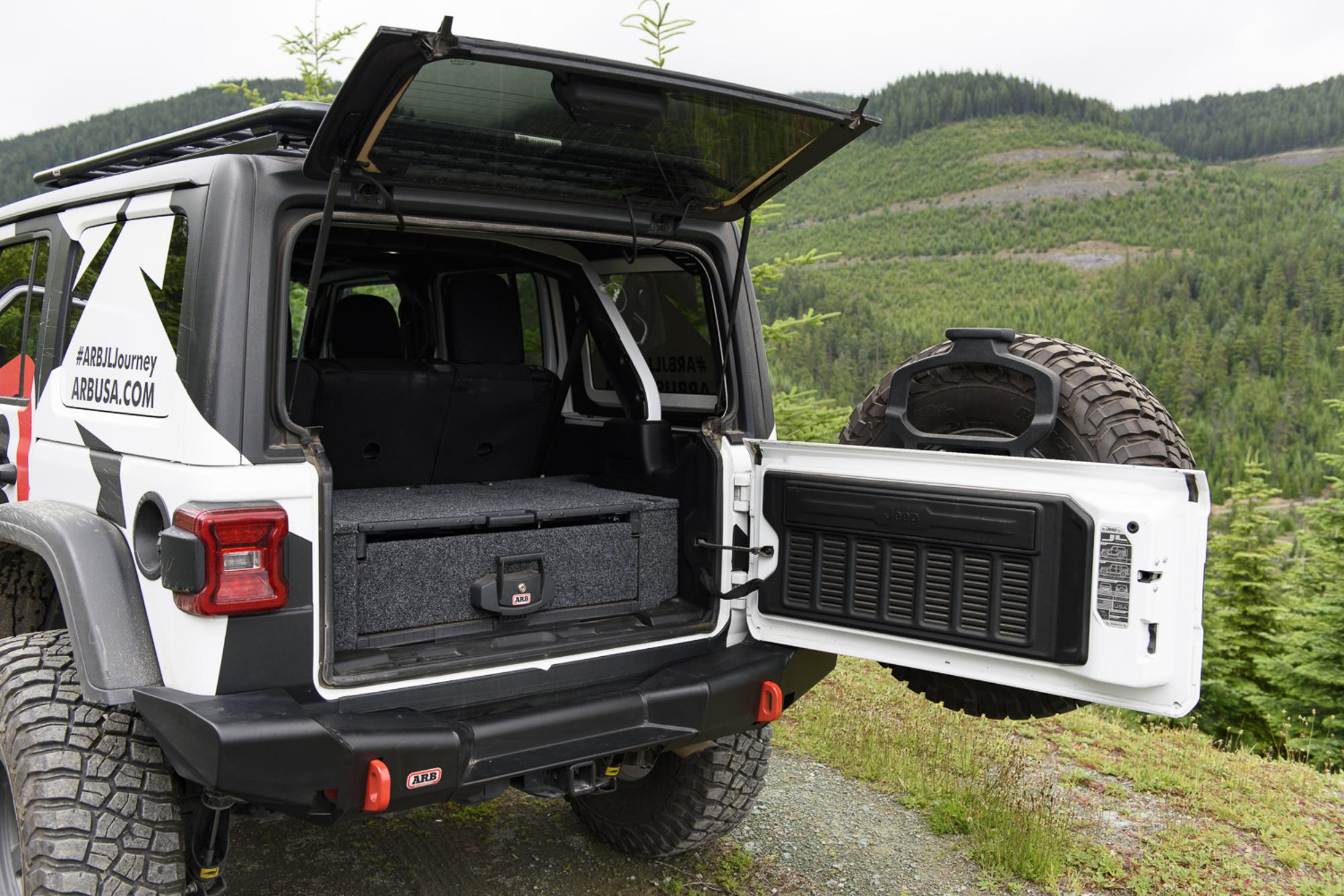 There'll be differential covers as well for a bit of protective bling because the under-gubbins need to look good and stop those pesky rocks from rearranging your diff's housing.
So in the spirit of Kung Fu you Jeep JL Wrangler owners, be patient grasshopper, because soon at an ARB store near you, you will be able to shower upon your Wrangler the gifts to make it even more mega!
Disclaimer – ARB's Jeep JL Wrangler Australian range of accessories is under development and reaching the final hurdle as we go to press. We'll be driving an ARB Wrangler in a coming issue of Loaded 4X4.
Pics are of USA-spec vehicles for illustration only.