Charged with doing our level best to inflict pain on Toyo's R/T or "Rugged Terrain" I found myself a conscientious objector because I couldn't bring myself to torture such a beautiful creation. I get very emotional about tyres, some have dubbed me the "Tyre Whisperer" after my passion for pressures, poundage and ply-ratings, so I did what I know best, inflated them correctly and drove them with a mindset for longevity.
Editor Steane had run them on the mighty Defender through 2018 and took them off the tarmac for a jaunt to Birdsville via the Simpson Desert on one of his usual annual winter sand-fests.
Steane's 10,000kms of usage barely scratched the surface. They came with nearly 15mm worth of tread depth, and the tiny chamfered edge on the tread blocks weren't bothered at all so we could visually confirm the wear in that time was negligible. Apart from a couple of nicks from pesky rocks on the roads in and around Betoota, roads that run through gibber plains, the tread faces were clean-as-a-whistle and looked near new. He reported running 12 psi all round on his desert crossing and 20 psi on the fast Outback dirt roads, although he notes that he kept his speed down below 100 km/h.
We then swapped them out onto some new CSA Alloy Renegade wheels in their satin black finish, and they sure look pretty. The plan for the next little while was/is to give them an Isuzu run, firstly on Rose's MU-X for our recent Western Australia juggernaut and later onto my D-MAX for some right-Royal slapping delivering training courses all over South Australia and the odd trip away.
Now I'm a firm believer in sixteen-inch wheels, but alas on a lot of modern 4X4s they can't be used anymore because of the diameter of the brakes used on vehicles in the quest for greater safety. Bigger brakes, shorter stops apparently. Pfft, I say brakes are over-rated, a gearbox and wind resistance maketh the man when it comes to stopping!
That's one of the reasons that pox on mankind, that trend to fitting eighteen, nineteen or twenty-inch wheel/tyre combinations is becoming the norm (typically on Euro or big USA vehicles) instead of sensible sizes that are readily available in Outback Australia and affording plenty of strength and comfort-inducing sidewall height.
I better quote some specs for you before I go much further, so you know something about the size, as they are an LT265/75R16 123R. Deciphering that for you and it reads like this – LT equals Light Truck, 265mm across the face/width, 75 is the aspect ratio/sidewall height measured as a percentile of the face width, R is radial construction, 16 is inch diameter of the wheel to attach it to and then comes the important stuff. The stated 123 is the load index of the tyre, and it tells me that it'll carry at maximum inflation a phenomenal 1,550kgs per tyre, while the R is the speed rating when maxed out at 170km/h. That last number is pretty immaterial in this country because you'll end up in gaol.
Here's a tyre in a size that's likely the most common stock in the bush, with a great load index, proper Light-Truck construction and in the case of the R/T, a really interesting tread pattern. Now interesting tread patterns usually mean noisy. If you've ever watched a 4X4 come down a road that's wearing M/Ts (or muddies), you'll know what I mean. There are a few brands that manage to keep the wind whistling through the tread blocks at a lower decibel reading, but by and large, they are likely to be loud! The R/Ts pattern looks like it should be too, but it's not. About the only time, you'll hear them is when you're slowing to a halt on the blacktop where there's the slightest rumble. And I mean slight!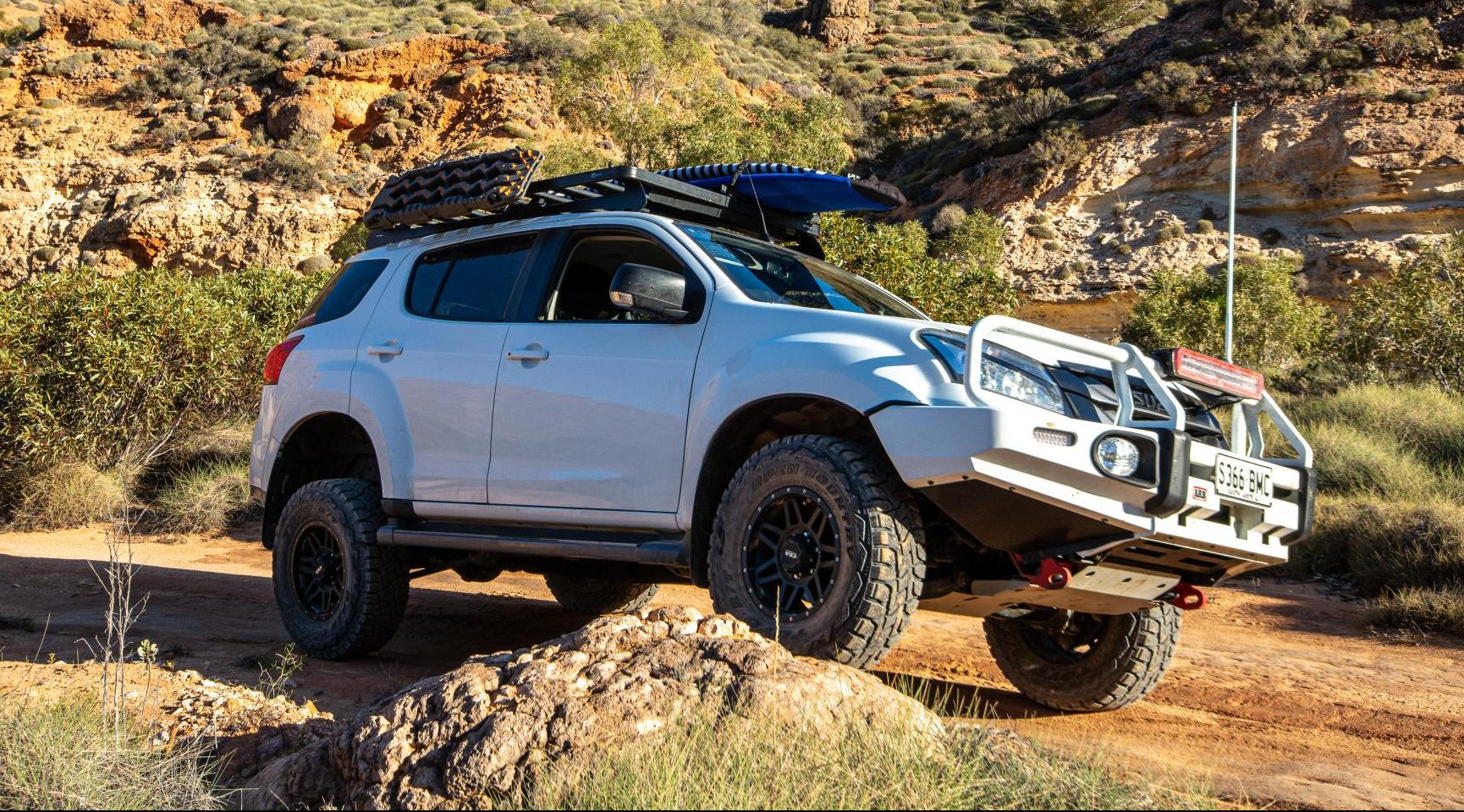 Because of their carcase and load index, the tyre is firm, and I'm not going to pretend otherwise. You'll notice some lumps on the road more than you might have in the past with an OEM passenger variety tyre, but you know you can manage that with pressures.
Fully laden as we were with the kitchen sink and the camper trailer on the MU-X, I was running 34psi/230kPa in the front and 38psi/265kPa in the rear, and it steered and stopped like a charm and regular checks on my TPMS (tyre pressure monitoring system) confirmed temperatures were good, and pressure creep right on expectations. Set like that though for the load you have to expect some bump and thump on less than perfect roads, but with the camper unhitched and pressures set for a light load at 29psi/200kPa front and rear it was smooth-as and comfy.
I liked their behaviour on rocks, and the R/Ts got served up three types of environments, one in the gorges of the Murchison River on iron-laden lumps, another exposure in the Goldfields where there was a lot of quartz and on the way back home in the Flinders Ranges on jagged shale. Set low for some flex at 20psi/145kPa they moulded themselves nicely to the rocks and provided positive grip and no wheel-slip, so that was a win.
There was a heap of sand driving too and even at a modest reduction to 18psi/135kPa on coastal stretches, and some inland desert patches the MU-X sailed through with again little slip or fuss. I was expecting a different result because my experience with more aggressively treaded tyres has sometimes been a little mixed in sand, where the tyre assumes the role of an excavator rather than float gracefully over the top.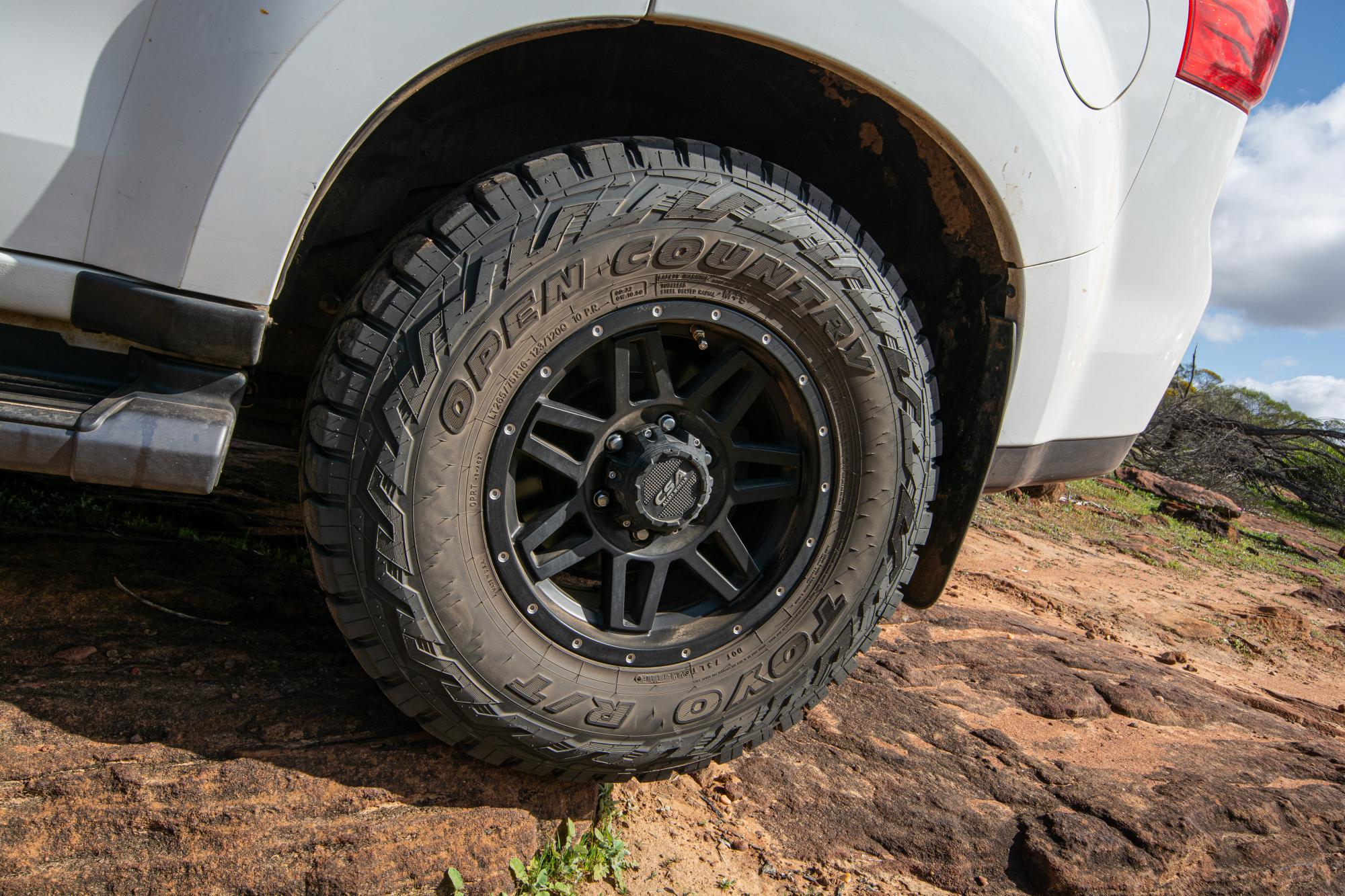 Because we do proper tests here at Loaded 4X4, I'd even spoken to Huey before departure, and he summoned up for me a Force 10 gale with plenty of rain and right on cue as we neared Norseman. Rather than chicken out for the challenge, we drove headlong into it and motored to a place called Peak Charles. Taking a fully laden vehicle/trailer combo into a wet and now muddy and unfamiliar environment isn't usually smart, but I knew I had my satphone ready if needed to call in the Cavalry. Didn't need to worry because at 20psi/145kPa again there was no slip on this slop. Part of that result I'm sure is due to the shoulder lugs embedded in the tyre's profile and providing ample clawing ability on some of the ruts we negotiated.
In the week we've been back I've had a chance to explore its bitumen potential, and I can faithfully report it steers around corners like it's on rails. I've got some favourite benchmarks in the Adelaide Hills, and the R/Ts carry speed on the bends every bit as good as any all-terrain I've driven of late, so despite the appearance of the pattern they grip.
At 25,000kms now and with barely 1.5-2mm tread wear we might be reporting on the demise of these tyres in 2030 at this rate!
You'll find the Toyo range including the R/T Rugged Terrain at Tyrepower Stores and other good tyre retailers right around the country.