Following on from the success of its REVO 10S & 10W winches, Bushranger has announced the arrival of the big-daddy 12,000lb REVO Recovery Winch to the family. Not only does it look incredible, but it also sports the same great features as the REVO 10S but adds increased pulling power, and a stronger synthetic rope to match. It also comes with a boosted limited lifetime mechanical warranty and 7-year electrical warranty.
Bushranger's REVO 12,000lb winch features high-quality construction, low current draw, four-stage oversized gearing with fast line speeds and an advanced proportional friction braking system that will reliably hold 100 percent of the rated load with no slippage. The zero drag braking system allows for fast no-load line speeds, making unspooling the rope a breeze, with no more pulling against the friction of traditional winch braking systems. You can use the power of this winch to do the unspooling for you with no concern of brake-drag causing unnecessary wear and heat build-up. A fully-sealed motor and gearbox (IP67 rated) provide maximum protection from water, dust and debris.
The Bushranger REVO is designed for ease of installation with the gearbox having sixteen clocking positions, the control box having multiple mounting options and the aluminium hawse fairlead having to bolt-on options, an innovation first introduced by Bushranger. A wireless hand controller rounds out the premium synthetic version, allowing for reliable, no delay, cord-free operation of the winch, giving you the freedom to move around the vehicle during a recovery.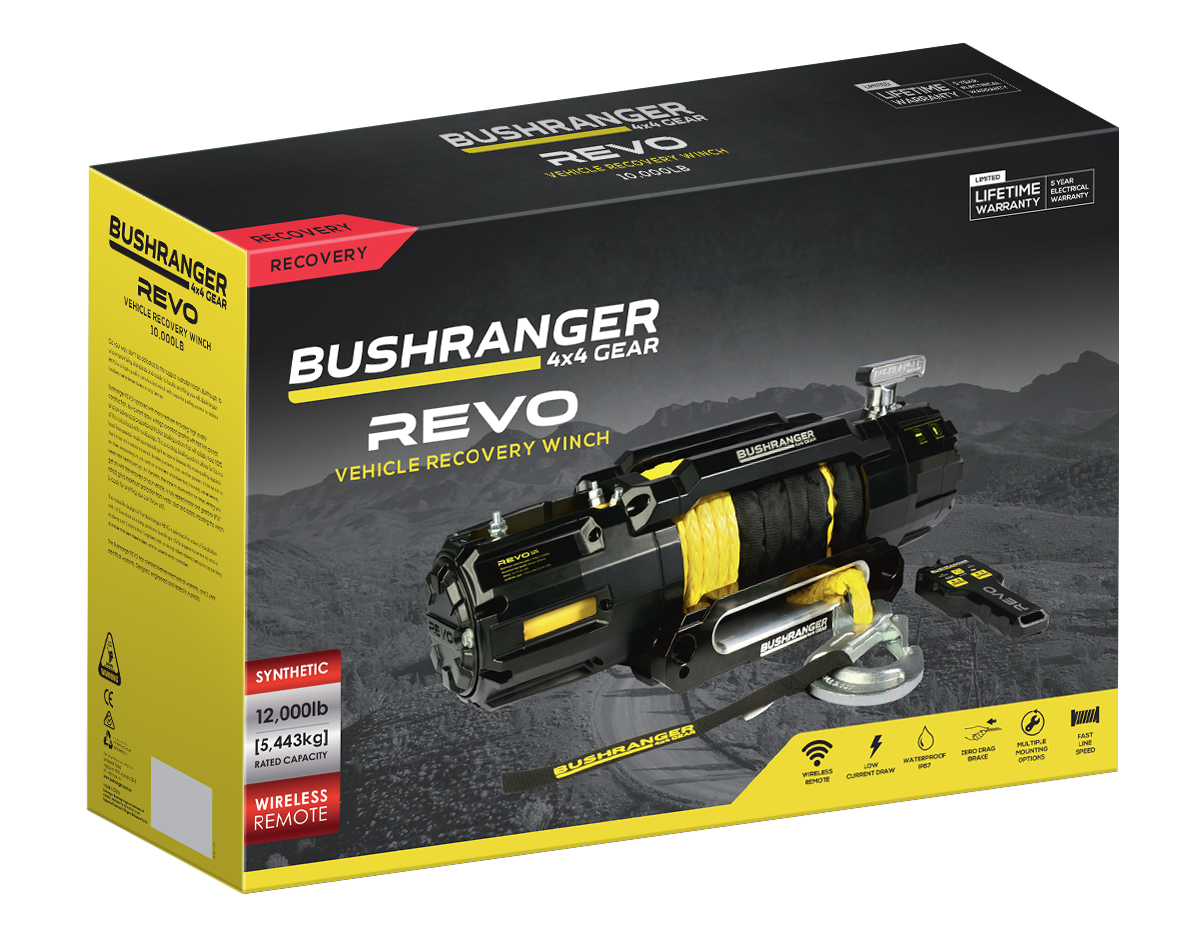 The Bushranger REVO has a limited lifetime mechanical warranty, and 7 year electrical warranty.
REVO 12,000LB RECOVERY WINCH SPECIFICATIONS:
Premium Motor design | Series wound, 12V, 6.2HP motor made with high grade materials resulting in low current draw and longer life at extreme load.
Clock-able motor housing | 4 position motor clocking for versatility during fitting
Multi-mount control box | for easier installation
No-lift clutch | easy to use spring-loaded cam style clutch mechanism
Tough Design | strong and lightweight aluminium alloy housings with durable black powder coat finish
Zero brake drag | Zero drag braking system allows for the winch to be powered out under no load without heat build-up, making unspooling a breeze.
4 stage oversized gearbox | designed for maximum strength and durability. Extra-wide gears improve load distribution resulting in less wear and increased long term reliability. Externally adjustable, 16 position gearbox clocking for ease of fitment and use.
Gearbox mounted braking system | 100% load holding, proportional friction braking system located inside the gearbox, away from the drum – eliminating heat transfer to synthetic rope.
Waterproof | Fully sealed motor, gearbox and drum for maximum protection from water, dust and debris [IP67].
Control box | Multiple mounting orientations to suit every installation. Supplied with additional mounting bracket for hassle-free installation.
500A Contactor | Heavy-duty sealed contractor reliably distributes power with minimal voltage drops.
In-Line/Off-set Hawse Fairlead | Innovative two-position, aircraft-grade aluminium design to suit in-line and off-set mounting requirements.
Synthetic Rope | Premium, 11mm synthetic rope paired with a ½" removable clevis hook
Wireless Hand Controller | Full sealed, IP67 rated ergonomic hand controller with long-range and a sealed 433MHz wireless receiver mounted internally in the control box.