Our David Wilson is a man who is passionate about some very specific brands in the 4X4 and off-road world. His product preferences have been forged over the course of 25 years spent touring, teaching and towing right around Australia. That's 25 years of product testing and finding out the hard way, what works and what doesn't.
He's been in the camper trailer hire business for years as well, and his camper of choice, the one that he knows can have the crap beaten out of it and return ready for the next customer, are campers from Kimberley's range. David has bought them with his own money and he'll keep buying them because he knows they are up to the job. That right there is a real testimonial, not one that has been paid for!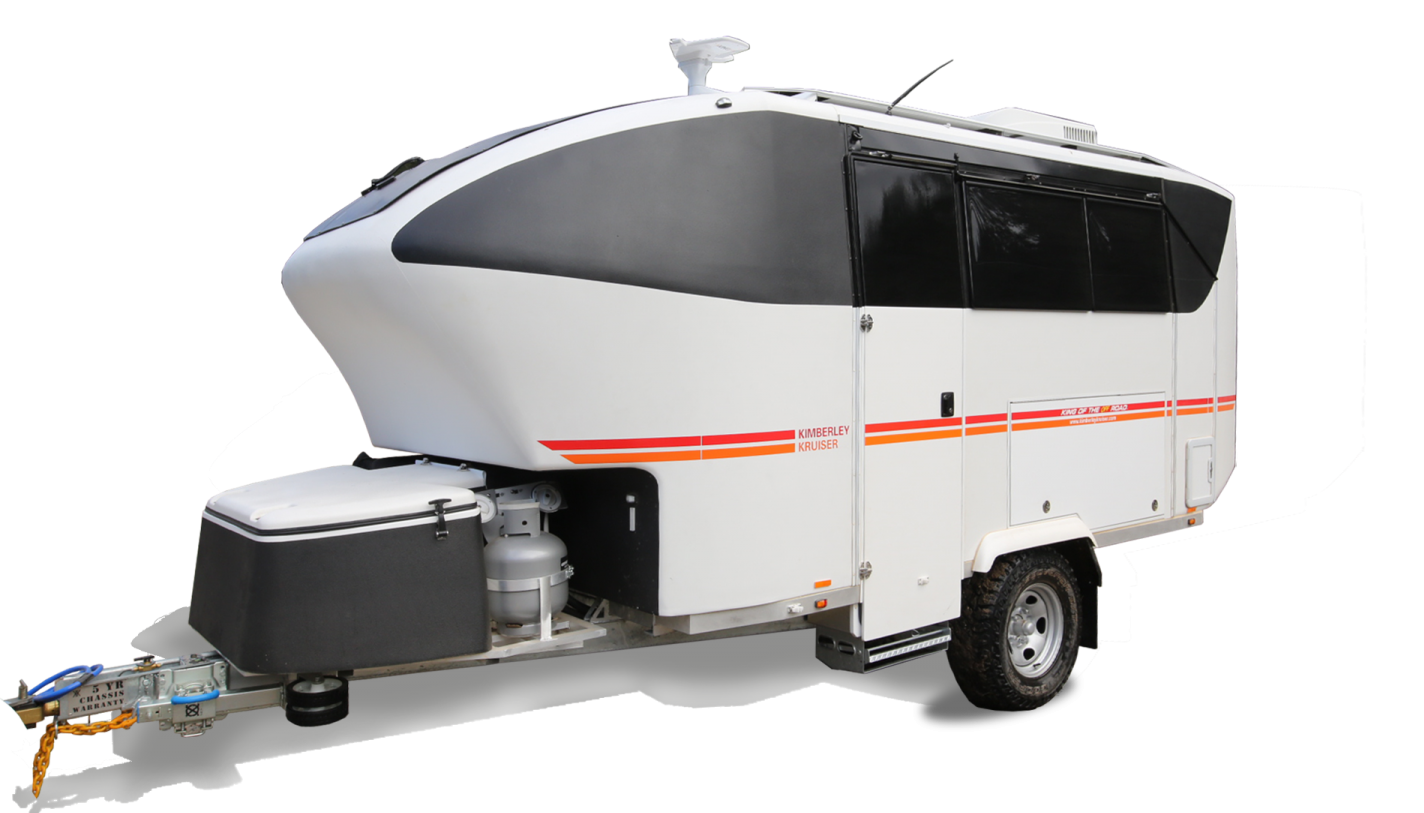 When it comes to their Kruiser range (caravan not camper) Kimberley Kampers combines cutting-edge technology with some good old-fashioned, built like a tank, strength. A modern Kimberley Kruiser's chassis is a lesson in hi-strength and light-weight.
Added to that strong backbone is a body that has been designed for low drag and high towing stability and the result is a range of products that lead their field in terms of reduced weight, towing stability and towing range.
The E Class that is featured here, like all Kimberely Kruisers, is built for off-road and built strong enough to deal with whatever goat track you might decide to wander up in your travels. But that doesn't mean it's rugged and simple and that you'll be casting jealous sidelong glances at the toffy looking rig you parked next to on that highway stop. The opposite is true, they'll be looking at you, knowing that your E Class will truly go anywhere, keep you in the lap of luxury while you're off the grid and get you home again. The E Class is no toy. It's as rugged in its construction as they get, but it's jam-packed with convenience and luxury features and let's be honest, it's a good looking rooster as well.
The following features are standard on every 2018 E Class:
Hot-Dipped Galvanised Chassis with 5 Year Warranty
Hydraulic Disc Brakes + Air Suspension
Diesel Hot Water
Full-Width Ensuite with Shower & Electric Flush Toilet
Diesel Heater for Ensuite
Top Loading Washing Machine
Queen Size Mattress
Smart Touch Plus Display
200Ah Lithium Battery
USB Charging Outlets
130L Upright Fridge
Induction Cooktop
Microwave Oven
4G Modem + High Gain Antenna
Bluetooth Soundbar
If you're in the market for an off-road caravan that'll get your 'there and back' time and time again all while keeping you in the manner to which you've become accustomed, hit this link and visit the Kimberley Kamper's website.