If you've seen the patent pictures that have been doing the rounds of the interweb in recent weeks of the all-new Isuzu MU-X, you will have seen that the DNA of the first issue had cleverly been retained. Redesigned ever-so-slightly to incorporate the styling cues from new D-MAX and also a new rear quarter window treatment to create a point of difference. But you know how it is with rendered views and patent pics, they're often fake news, so it is with great pleasure that we reveal the real-deal this afternoon, straight from the launch in Thailand.
Welcome to the 2021 Isuzu MU-X wagon and new from the ground up.
The dimensions follow that of new D-MAX, a little bit longer and wider, offering a bit more interior space for the seven-seater that was already reasonably generous in its proportions. Following the D-MAX's lead, the interior-trim levels have been significantly changed and include new appointments in lighting, seating, device charging and function. Apple CarPlay and Android Auto feature prominently in the nine-inch multi-function screen and we suspect there's a new feature unique to high-end MU-X, a selectable terrain mode display, not unlike that used in Mitsubishi Pajero Sport.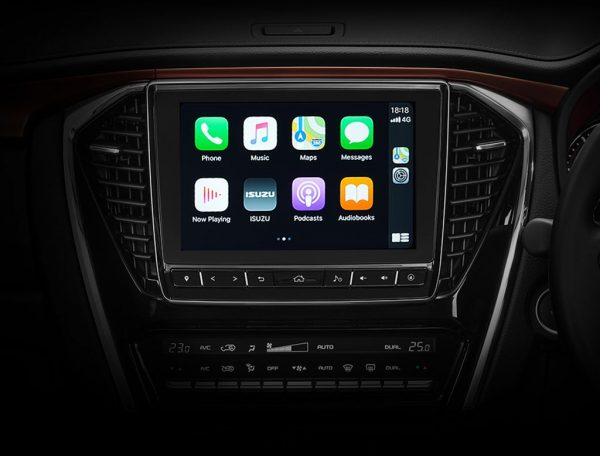 Above: Apple CarPlay and Android Auto in a great big telly and maybe a new terrain control interface
It is noteworthy that the arrangement of the 4X4 controls is different from its ute sibling, the 4X4 selector has been repositioned from the dashboard and down to the centre console behind the main gear selector. Above it is a mysterious new button that looks a lot like an off-road mode activator to us and especially more intriguing because there's no rear diff-lock button.
Above: Part-time 4WD with a twist; the Rough Terrain Mode button
Whilst the driveline is still part-time offering 2H/4H/4L we suspect that activating the Rough Terrain Mode brings up a display in the dashboard telly that the driver can select from that best matches the terrain you are driving on. Select sand, and the traction control system is dulled right down, throttle inputs heightened for a quick response. Select the rock setting and traction control is tight as a drum and brakes a spinning wheel at the first hint of wheel slip and the rear axle automatically discerns whether or not it needs to lock. Maybe.
Other buttons aside the gear lever show hill-descent control and an override button for stability control. Gone is a lever-style handbrake, replaced with an electronic handbrake with an auto-hold function. Another very-Mitsubishi feature.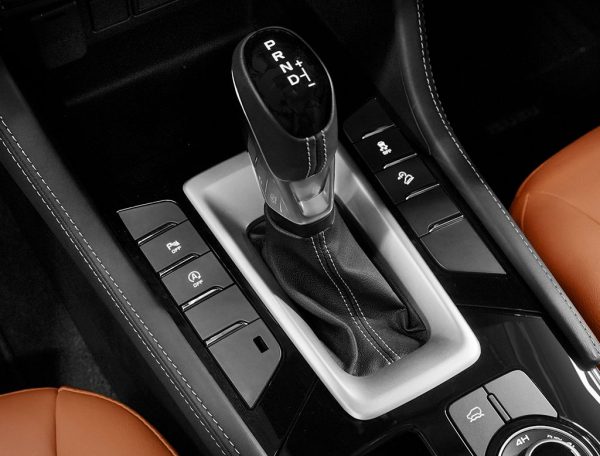 Above: Tried and proven Aisin six-speed auto called Revtronic, also does duty over at Toyota
The chassis employs the front end of the D-MAX and features the radically revised IFS setup that we have come to love in our time with the new vehicle, as it steers in concert with the new electric power steering system so beautifully. It is worth saying again, Isuzu's engineers have come up with the best-steering ute in the market, so MU-X should be a champ amongst the wagons too.
Luckily the back end retains a live axle, yep, coil springs doing the suspending and following the MU-X tradition… disc brakes! Why oh why can't we have this grafted onto the back of a D-MAX, please? All of it!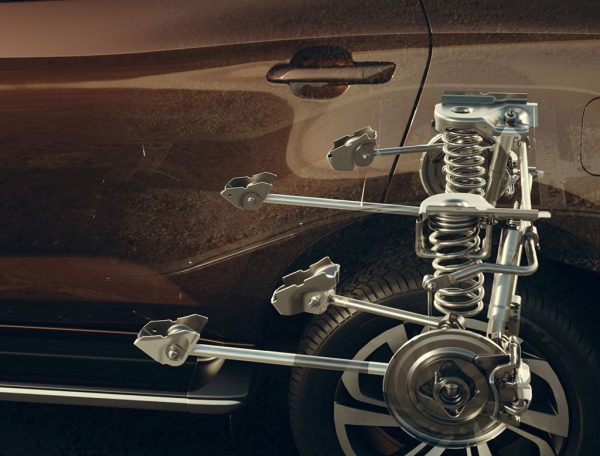 Above: There's still a God; a live axle with coil springs in the back ought to offer some flex
What's not so hot is the choice of wheels. At least there is a range of sizes and thankfully it looks like there'll be a poverty-pack version with sensible seventeens. The mid-spec cops dumb eighteens and the top-spec gets absolutely ridiculous twenties! I suppose there'll be plenty of new MU-X owners gravitating to the vehicle, not for its off-road appeal, but its new urban-chic, so they can have that travesty all to themselves.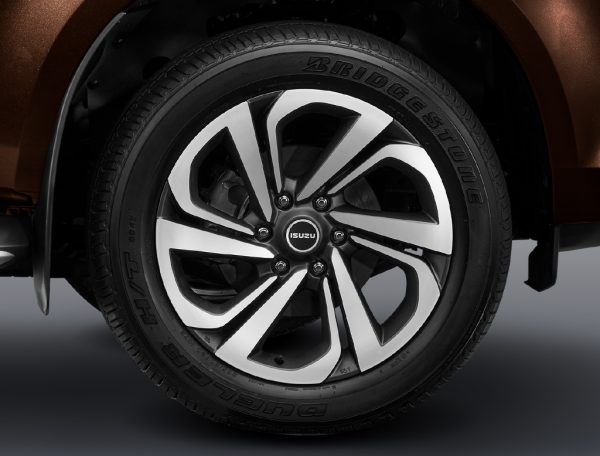 Above: Marginally less-ugly than the wheels on the new D-MAX, but at 20″ diameter it'll be a city-slicker choice!
The motivation for the vehicle will still come from the newly released 4JJ3 iteration of the venerable Isuzu 3.0 litre four-cylinder turbo-diesel with its now 450Nm. It is a much more civilised diesel than its predecessor, quieter and makes torque everywhere and mates beautifully to the retuned Aisin six-speed automatic. No more hunting through the gears. I can also vouch for its fuel-efficiency, as new D-MAX is cheap as chips to run.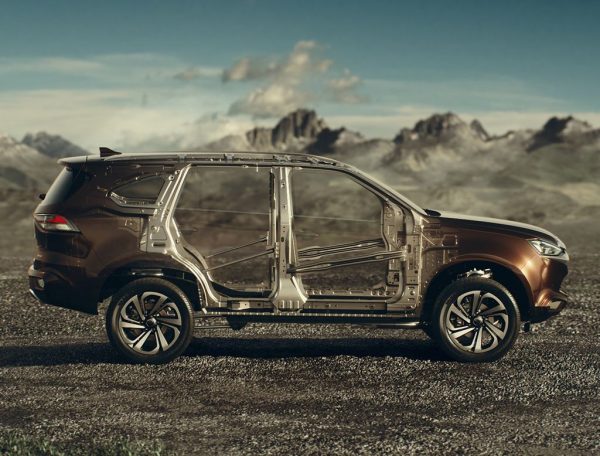 Above: The new chassis and body structure coupled to the electronics make this a seriously safe SUV
You can expect all of new D-MAX's safety fruit to carry over as well, likely making the new MU-X one of the safest new SUV's you'll see anywhere on Australian roads late next year.
As an owner of a current-generation MU-X, I can tell you that it has been a great experience and is easily the best of the ute-derived wagons. It's not perfect, but this new 2021 model will have addressed all of the issues of before and propel it into sales territory that Toyota is going to hate.
Prado beware. This will be a serious alternative that I suspect thousands are going to love and likely at a price-point that Toyota cannot or will not match.