Someone reminded me in conversation a month ago that it was around 2015 when Mitsubishi's Pajero Sport first saw the light of day here in Oz. With some Mitsubishi product training coming up in WA shortly, I thought that it was about time I got my bum back on that seat, as my last review of the car dates back to 2019 and just before the world went a bit weird.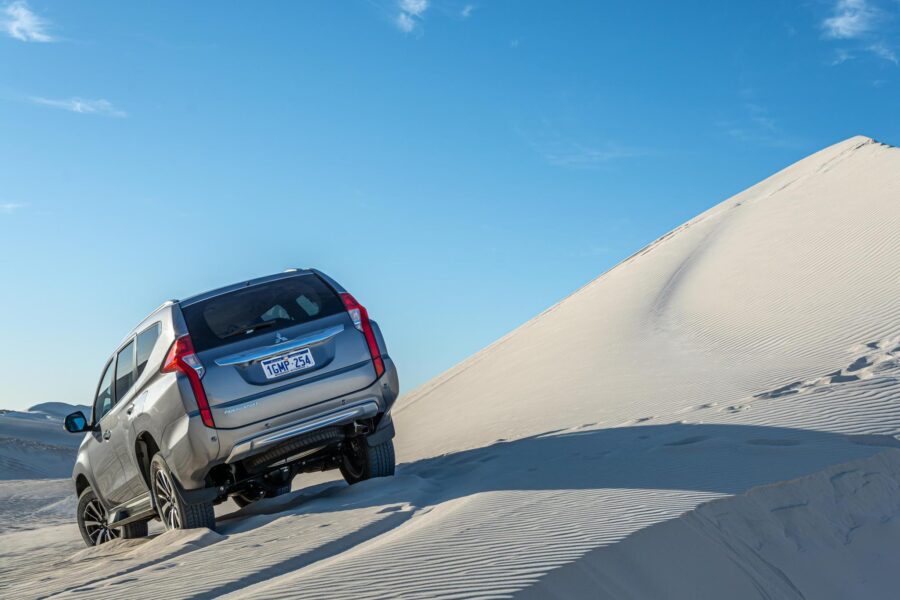 I've got the link going here for the previous review which has plenty of detail that I'll skirt around on this occasion, because I want to talk specifically to the driving experience.
Updated in 2020, Mitsubishi added a slightly different snout, tail lights and stereo and a few other baubles, but the underpinnings remained the same and that's a good thing, because the basic architecture belongs to the Triton. This is another of those wagons owing their existence to a ute, in the mould of D-MAX becomes MU-X, Hilux becomes Fortuner and Ranger becomes Everest.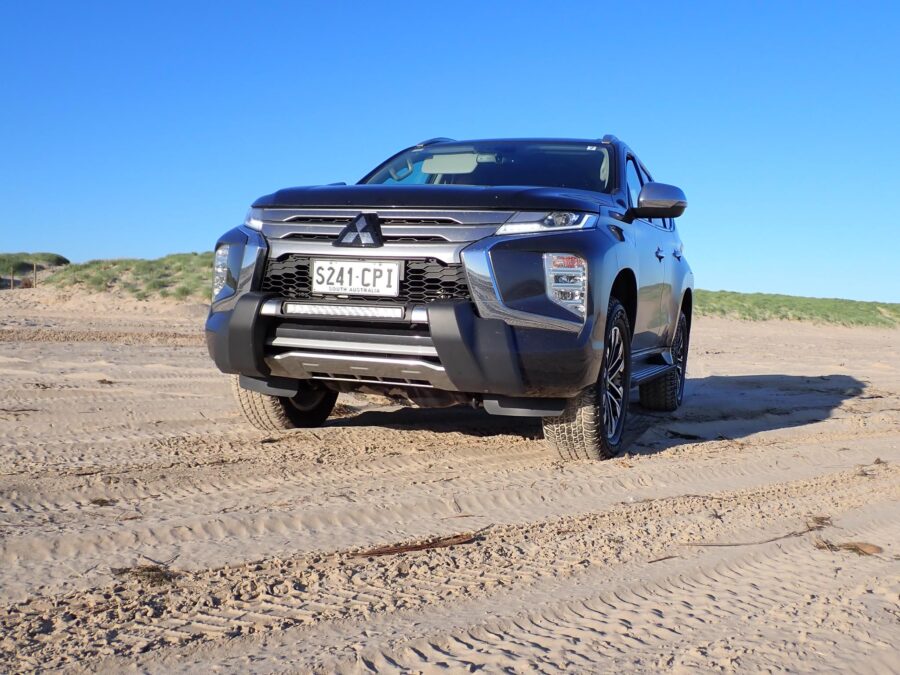 Motivation still comes from a 2.4L four-cylinder diesel and titled 4N15, and it's an alloy lump, which is good because weight-saving is the game that's on here, something I noted when I lifted the bonnet which seemed similarly alloy light.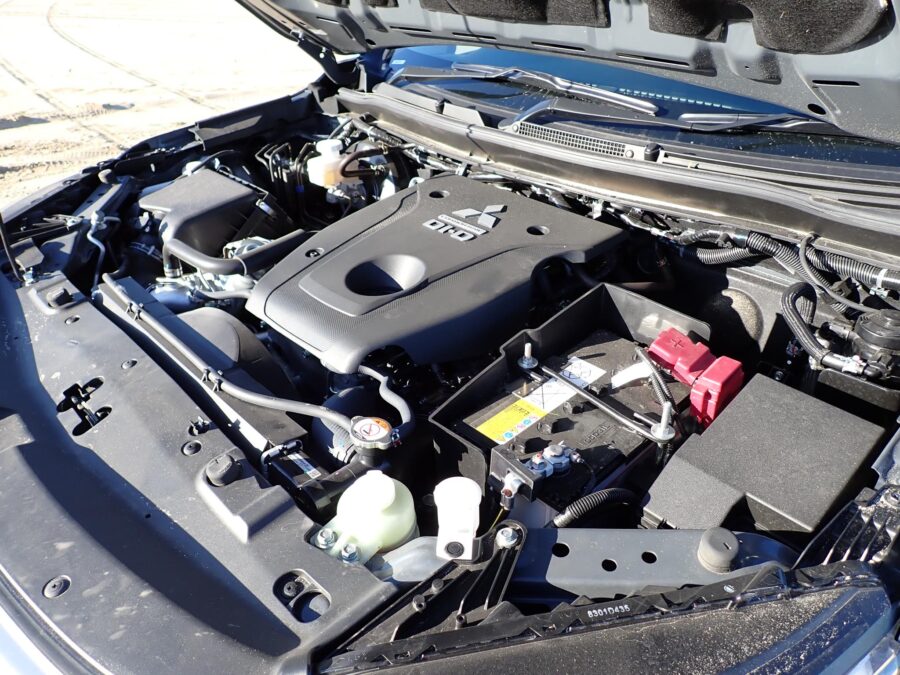 That engine adds something to the driveability, not so much in the get-up-and-go stakes, because the Pajero Sport is more rabbit than hare (with a leisurely 133kW and 430Nm), rather, it goes around corners unlike most 4WD vehicles because there's less mass sitting over the front wheels.
That means a whole lot more poise than any of its competitors and full-poise is achieved courtesy of Mitsubishi's Super-Select II 4WD system.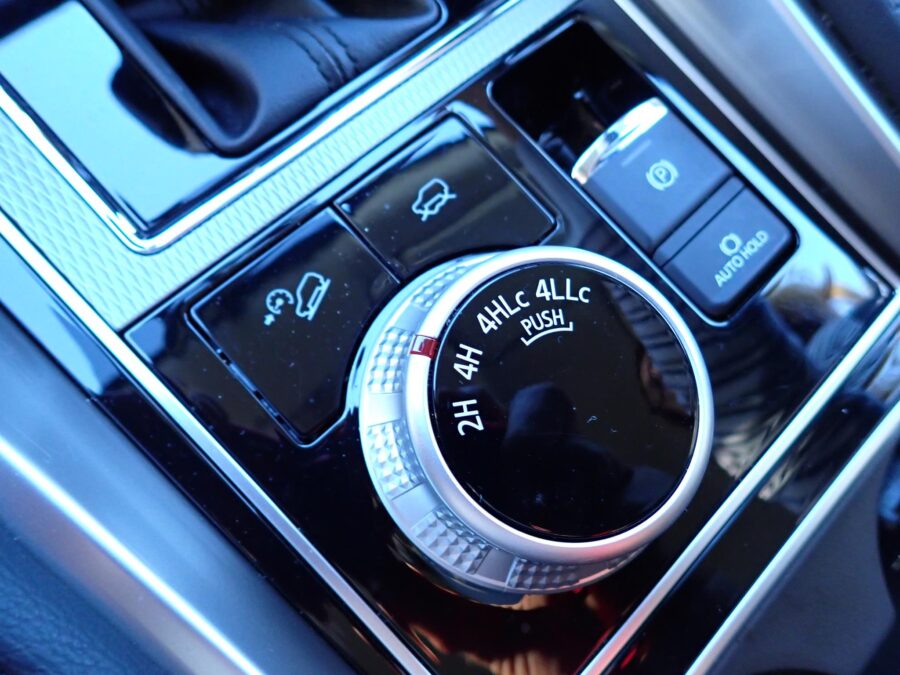 Super-Select first saw the light of day back in the days of the NH Pajero in 1991, at a time when things 4WD were decidedly spartan. I still can't fathom why Mitsubishi has never truly capitalised on this asset, and I'll quote a recent quote from a Mitsubishi executive on this, "we make great cars, we just don't seem to be able to tell anyone about them".
So I will.
Super-Select is a fabbo transmission. It's one of those having-your-cake-and-eating-it ideals where you've got the best of two worlds, on and off-road.
Back in the day it was a lever engagement, a proper transfer case stick with four positions and today all done via a rotary dial and electronically. As you migrate from one surface to another you go like this…
2H = Part-Time/Rear-Wheel Drive (for city and well-maintained dry bitumen)
4H = Full-Time/All-Wheel-Drive with bias to rear wheels (for the city and crappy bitumen and a well-made dirt road – in all weathers)
4HLc = Part-Time 4WD (50/50 split of torque front and rear, centre-diff locked), (for high-speed dirt/sand loose surfaces only)
4Llc = Part Time 4WD (50/50 split of torque front and rear in LOW range, centre-diff locked), (for the technically difficult trail across steep or boggy conditions, loose surfaces only)
Any and all of the HIGH range modes you can and should access on the move, and at speeds up to 100km/h, whilst LOW range is a stationary engagement proposition only. As all Pajero Sport are automatic-only, you'll need to stop, shift into neutral, select 4Llc, then grab your drive gear and off you go.
Super-Select makes Pajero Sport and Triton behave like a Subie when the conditions are shite. Quick changes in direction are possible because the vehicle has better balance. A vehicle with either FWD or RWD will always be a handful when conditions aren't right. An AWD isn't.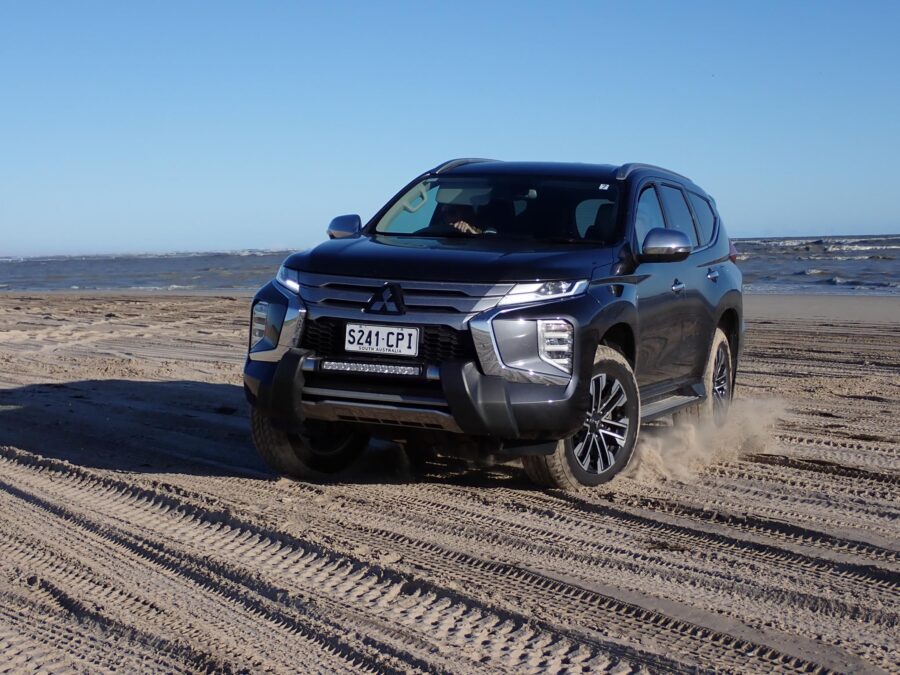 If Mitsubishi were to change Super Select, then I reckon the only modification would be to include a button atop the selector where you could disable the centre-diff-lock in LOW range. Plenty of folk towing big loads up a steep driveway, either a boat or caravan, would appreciate a "non-wind-up" mode on hard surfaces, like Toyota has done with a switchable centre-diff-lock on the Prado in HIGH and LOW.
The automatic is an eight-speed Aisin gearbox and it is very good. I reckon the more gears the merrier, because with modest outputs from an engine you can extract more driveability via more choices, as it keeps the torque-band in the zone all the time and saves hunting. That erratic, gear-shifting switcheroo happens when a five or six-speed comes under load, like climbing up a hill. This Aisin will still do that, but less obviously, as the gear "steps" are subtle, not a chasm.
The other functionality bits that shine are the options for doing the shifting.
Everyone's got a sports-shift mode these days, but precious-few offer paddles. Yep, you could leave it in "D for dumb" and let the transmission work out the optimum gear, but I know there are plenty of times when manually making that move makes more sense. The paddles are fixed to the steering column, the RHS doing the upshifts and the LHS doing the down. See a challenge, dial an appropriate gear.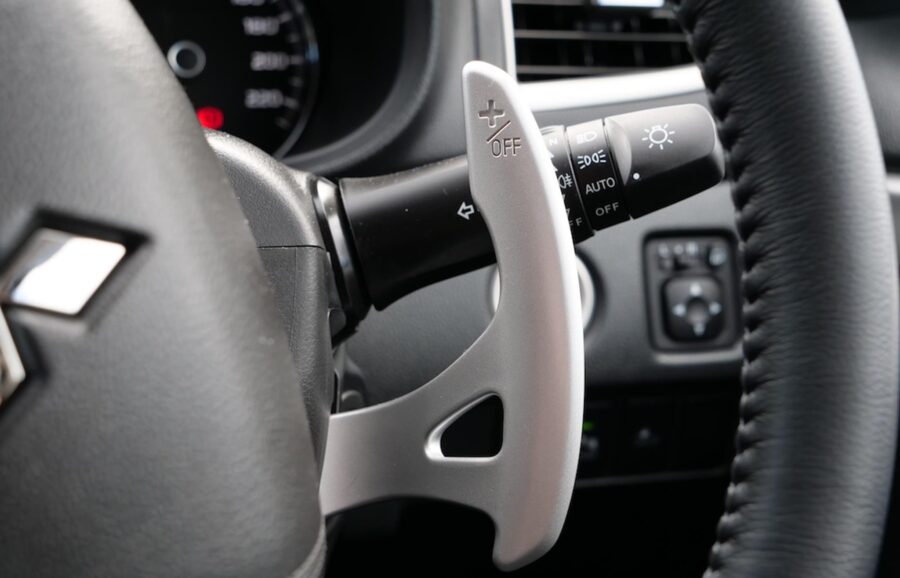 Mitsubishi obviously have confidence in the strength of this gearbox because you can access all eight gears manually in both HIGH and LOW ranges. What's odd about that you ask? Well, there are plenty of makers who won't let you anywhere near the overdrive gears. You might get the first six out of a ten-speeder, or the first four out of a six-speeder, but those manufacturers are likely fretting the consequences, especially in LOW range, of the torque multiplication effect and the loads imposed on overdrive gears that ordinarily might be fragile.
Coupled to all the fancy-schmancy transmission offerings are a suite of off-road electronics that seem to have improved with age.
Hanging off ABS these days are the safety twins, TRC and VSC, and off-road they are usually a PITA (keeping with the acronym theme).
TRC (Traction Control) is waiting in the background and lurking, ready to brake a spinning wheel and likely couple it to an engine de-tune blip that will cost you considerable momentum. Similarly, VSC (Vehicle Stability Control) is anticipating a yaw moment, when the vehicle starts to rotate around either its front or rear axle axis, and again chime in with brakes and/or an engine-speed kill. Autonomous braking like that can be the ruination of a pleasant day on the beach and leave you thinking what went wrong?
You could have helped the cause when in HIGH range by finding the VSC button, doing a long button depress and sequentially turning off both of the evil twins. In LOW range you'll automatically turn off VSC, because it's a high-speed function of the car, active above 50km/h. In LOW you're unlikely to be going that quick, so it's not needed. I'll not be the only one to have noted that most vehicle makers can't bear the thought that their buyers have some smarts and actively set about in their traction algorithms, to gradually reintroduce TRC and VSC as the speeds creep up and over that 50km/h threshold, even though you've turned the stuff off! If I want it off, please leave it off.
Mitsubishi have assisted mere mortals by including a quad of Off-Road modes and able to be accessed with the centre-diff locked; Mud & Snow, Sand, Rock and Gravel and this will either increase or decrease the intervention levels the car deems important to keeping you mobile.
You'll notice that in the Sand mode, the gears are held longer with increased engine speed and any brake taps or engine-speed trims are kept to a minimum. Less intervention equals greater momentum preservation. That's good.
Our test Pajero Sport (Exceed) also offered up an RDL (Rear-Diff-Lock) for those inevitable trackside moments when you cock a wheel in the air.
The suspension travel on the Pajero Sport is limited. Being an IFS (Independent Front Suspension) set-up with a live rear axle (both ends using coil springs), you quickly notice that on the stepped sections of a rocky trail, wheel-stroke is short and then grip might be lost. Luckily, TRC is quick to act in the rock mode and it'll do it's best to keep you moving, but there'll be times when the RDL is better.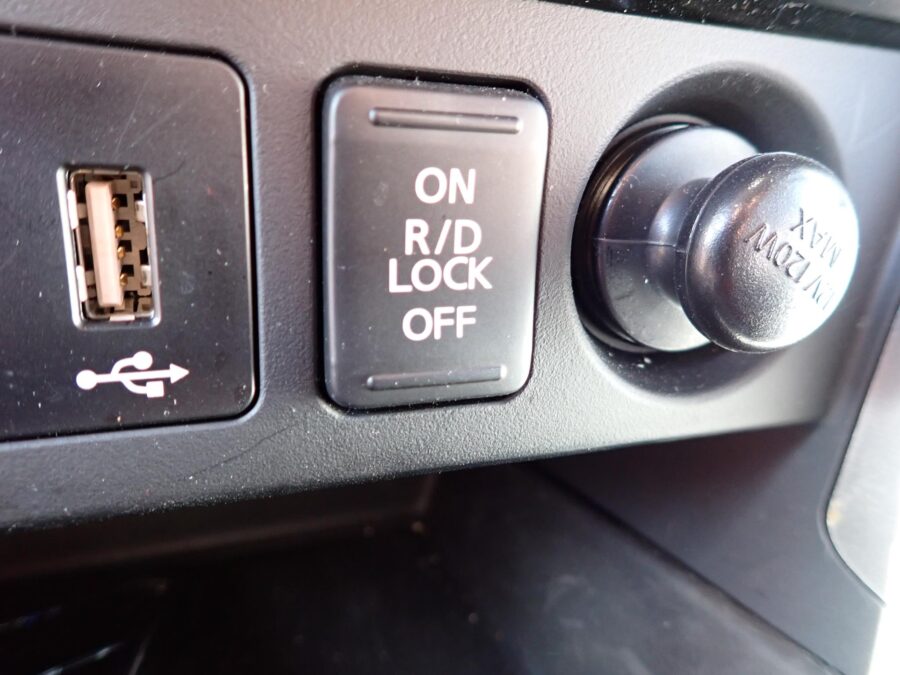 Having both back axles united instead of doing their own differential-a-go-go thing, means that Pajero Sport can be nimble like a mountain goat when clambering up things within its clearance capabilities. Clearance is modest at 218mm.
On-road ride in a Pajero Sport is pretty conflicted though.
In the first instance the tyres are rubbish.
The Mitsubishi's Toyo A32 is the same as Isuzu's Brigestone and Toyota's Dunlop OEM passenger car stuff, thin and flimsy and designed primarily for the blacktop with low rolling-resistance fuel-efficiency nonsense. Vague in the steering, wobbly on the corners and puncture-magnets extraordinaire on the dirt. You need to ditch them.
But just because the sidewalls on the stock stuff are branded Toyo, it doesn't mean that all Toyo product is compromised.
Far from it, because I have personal experience that their Open Country Light Truck range are amongst THE BEST 4WD tyre choices you could make for a Pajero Sport or just about any 4WD sold around the world.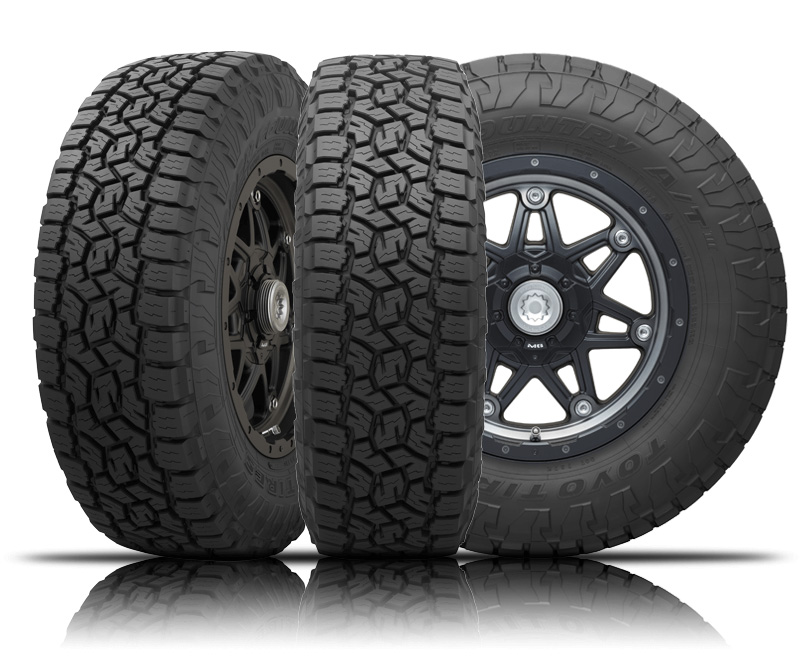 Swapping the A32 for a set of the new Toyo Open Country AT3 in light-truck will make you puncture-proof (provided you don't overinflate), reward you with a long, long, life (80-100K), with plenty of grip everywhere and sharper steering with shorter braking distances and barely any increase in noise.
But back to the suspension.
4WD wagons straight from their makers are always plush to the point of soggy and once you put a load on them they quickly become downright dangerous with their saggy bums and noses sniffing at the trees. I suspect Mitsubishi have stuck to their usual shocker trait of being too firm and following everyone else's spring rates of just enough to cover the perceived loads.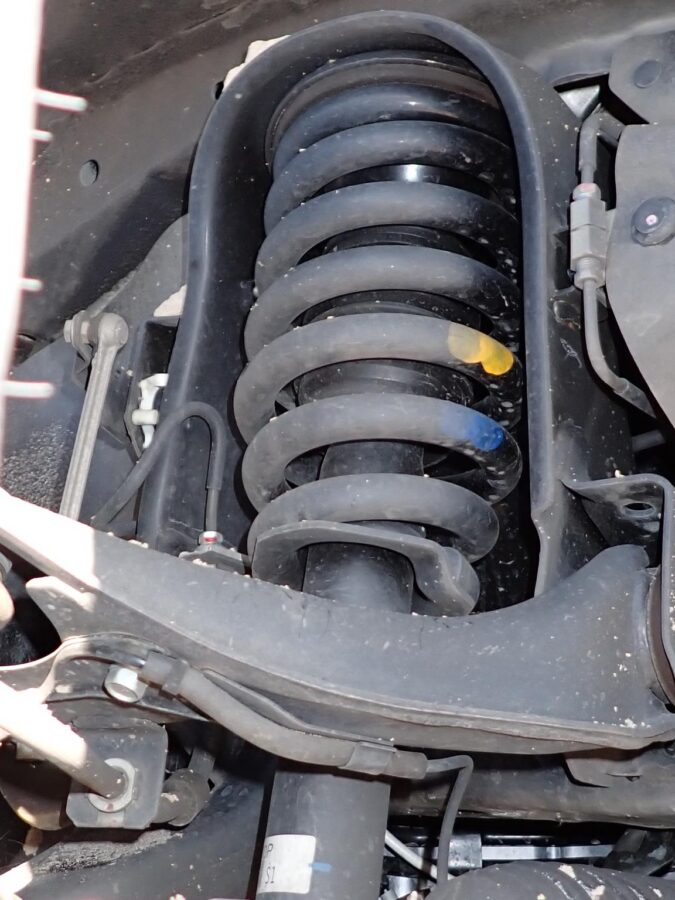 I know it can be better and if I owned one it would want to be, because on less than perfect bitumen and further compounded on corrugated dirt, Pajero Sport's ride is initially full of thumps that are unpleasant, jarring and fidgety. I thought I could fix it with a tyre pressure check, because it felt like the Toyo A32 passenger rubber was overinflated.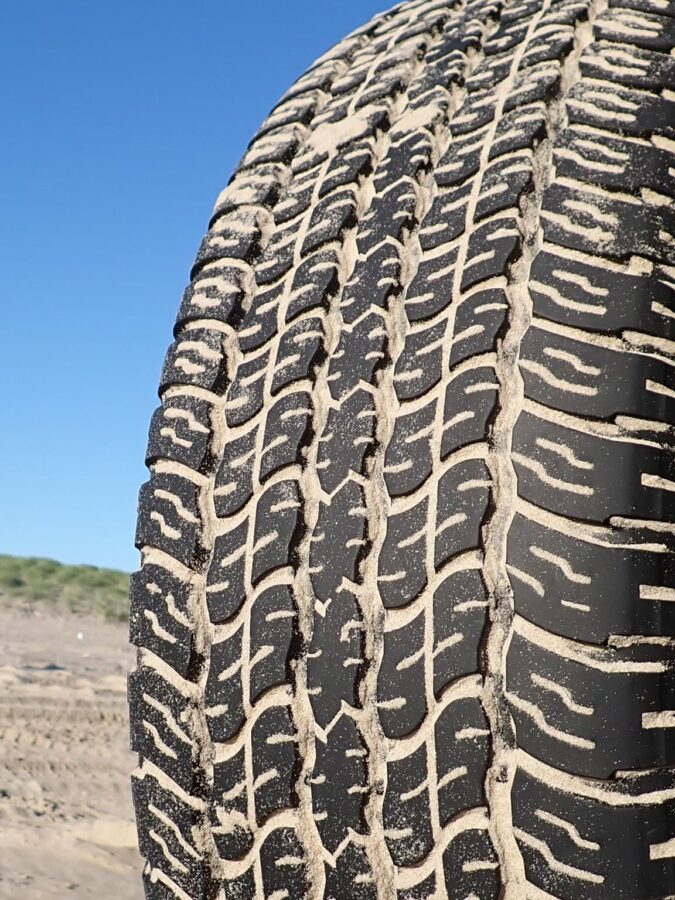 I was expecting 40psi/275kPa, but lo-and-behold, they were set appropriately and at the placarded 29psi/200kPa. The fault then wasn't with the tyres, it was the shocks and the initial springing offered by the coils.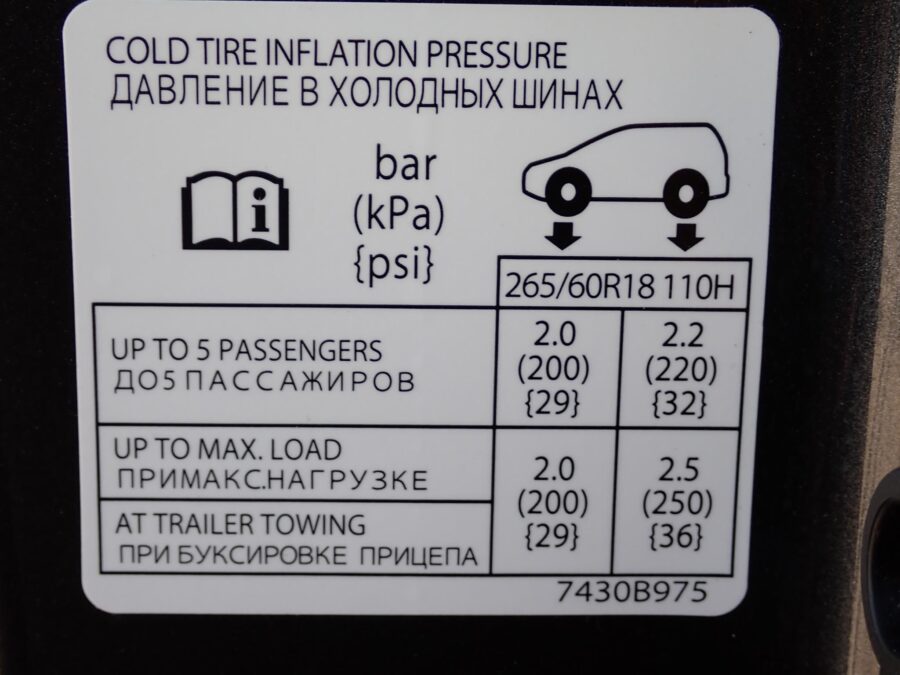 On the big hits our test vehicle got unsettled, the couple of ill-fitting manholes on the blacktop and the odd pothole on the dirt I aimed at saw the springs take a big dive and a sideways sashay. It wasn't as wallowy as a Prado, but it's something I'd tire of quickly and luckily for you dear readers, we've got a solution.
At the other part of this enterprise, at Loaded 4X4 Store, is a treasure-trove of Mitsubishi solutions that partner Steane has spent thousands of hours developing that cures the suspension-blight. Having driven a Pajero Sport with our makeover of springs and our "Dynamic" tune shocks, I can attest to the fact that you can make a silk purse from a sow's ear. If you want a smooth-riding, load-carrying, slightly-lifted Pajero Sport, we can make that a reality and the difference is beyond incredible.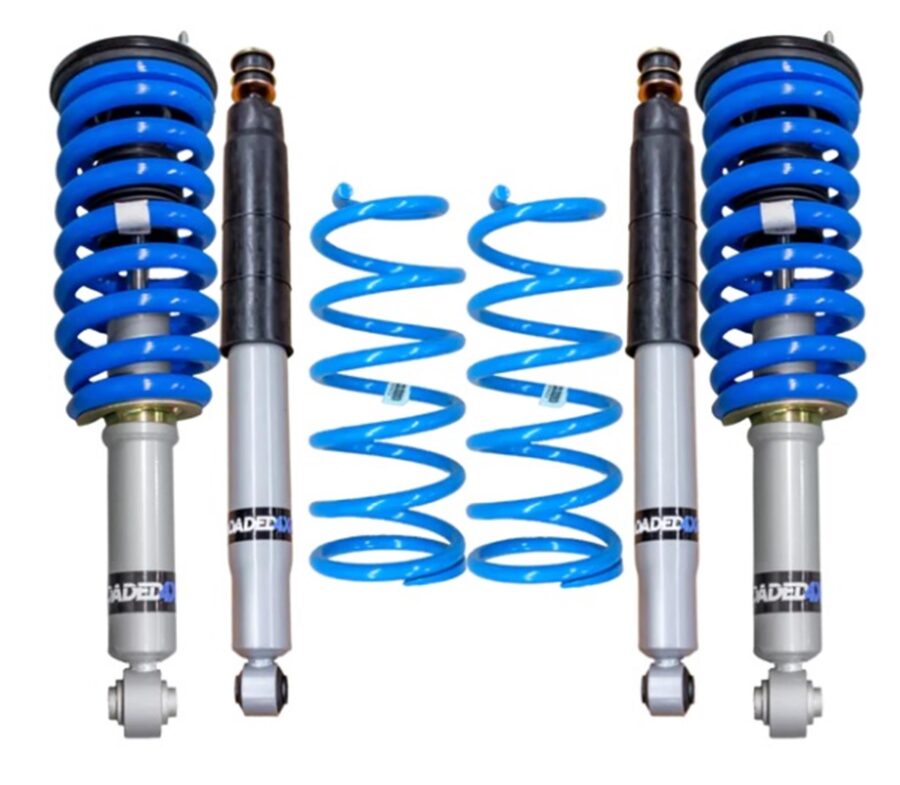 Another thing to do whilst you're at it is to replace the UVP (Under Vehicle Protection).
I have to admit to some surprise when I discovered that the loan vehicle's front plate was seriously out of shape when I hunkered down mid-review, to get some low shots. I can only assume that it was OK when we picked it up, but could it really be that on beach sand and when doing some pretty innocent driving, it gets pushed out of shape so easily? The answer is yes, so I don't like its chances in the really rough stuff. I took it off and straightened it and I suppose you could keep doing that, but it won't be sustainable, particularly after the radiator takes a hit to oblivion.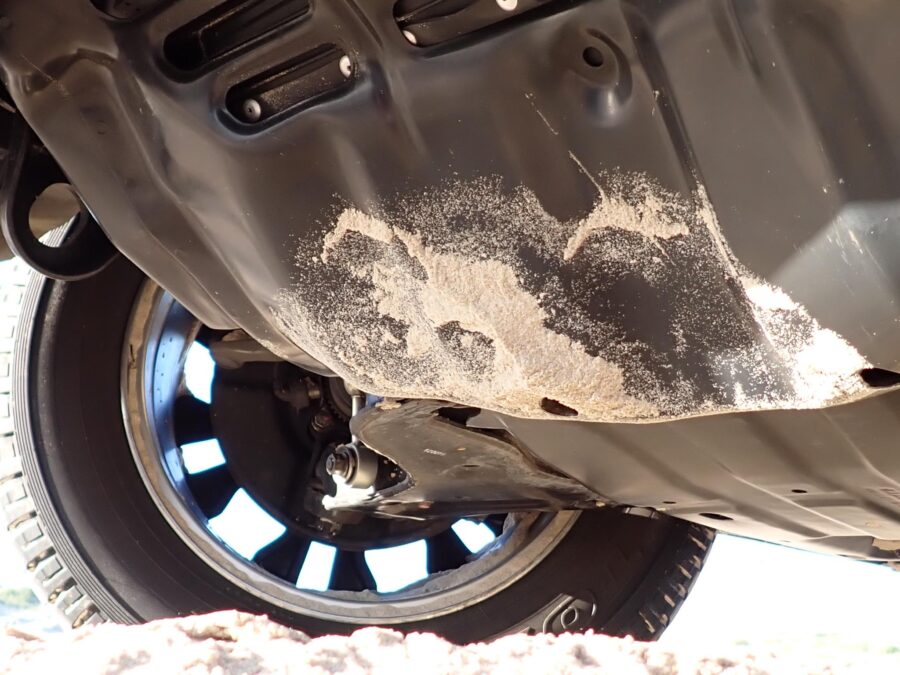 You'll likely need our Loaded 4X4 UVP kit for Pajero Sport, built of properly thick 3mm steel and finished in our own version of kryptonite, ArmorTex, a high-tech mar resistant finish that'll keep looking good for years.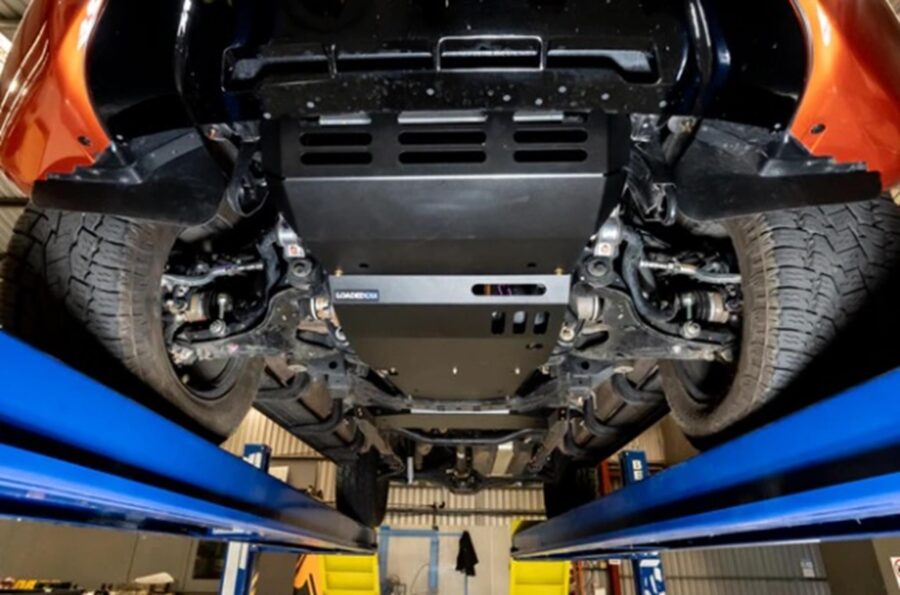 We know you'll be able to park the full weight of the vehicle on those plates with no risk. We've even enhanced the cooling efficiency with strategically placed vents designed to direct hot air elsewhere and included service points for draining of fluids and are plain for all to see. It is a simple bolt-on experience that's even thought of fixing the weak front fixing points with a reinforcing bracket. No stone left unturned.
I'm getting close to my 2,000 words ceiling, so here's the sign-off.
I'm a fan of Mitsubishi's Pajero Sport.
I like that you can buy a 4WD wagon that's a little smaller. If you're a touring couple and don't have a stupidly-big caravan it's likely a perfect size. It'll fit on tracks easily when others are copping a hiding from bush-pinstripe-inducing shrubbery. It's got all the gadgetry you'll ever want and more… including Super Select II. Its traction electronics are every bit as good as anything that Toyota might offer in Prado, Fortuner or Hilux, and it has a rear diff-lock that is quick to engage. It offers adequate mobility stock-standard, but enhanced greatly and easily with one of our lift-kits. But saving the best for last is the price-point, at around $64K driveaway and backed with a 10-year warranty and fixed price servicing it's exceptional value. Ten years. That's confidence.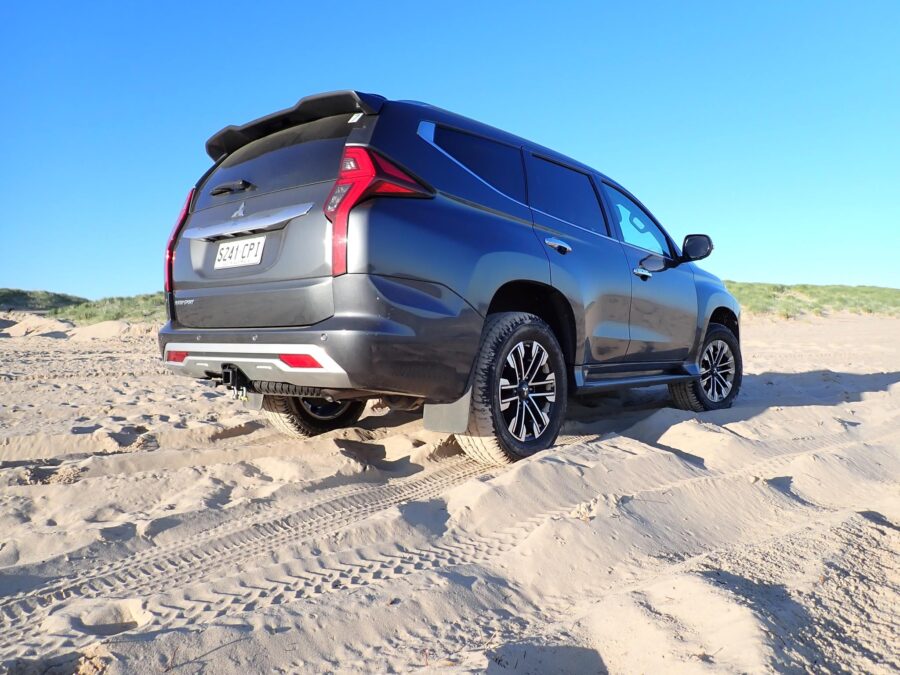 Like every 4WD sold in this country it is not perfect, but you can make it so with a couple of changes to suspension, tyres (Toyo's new OPAT3 all-terrains would make this a demon) and UVP and it'll keep up with and maybe even surprise plenty of doubting-Thomas'. Go on Thomas, take one for a drive… I dare you!